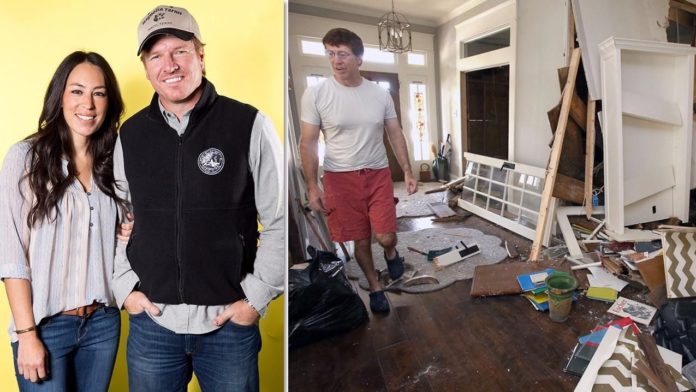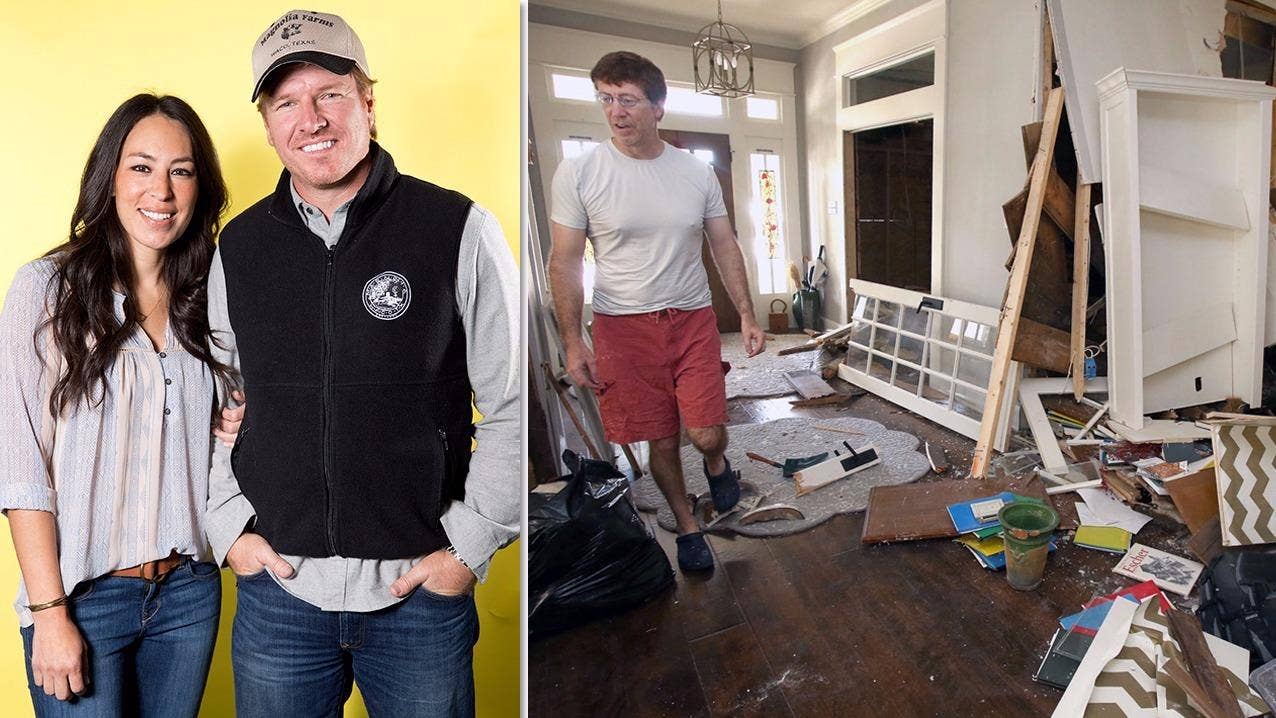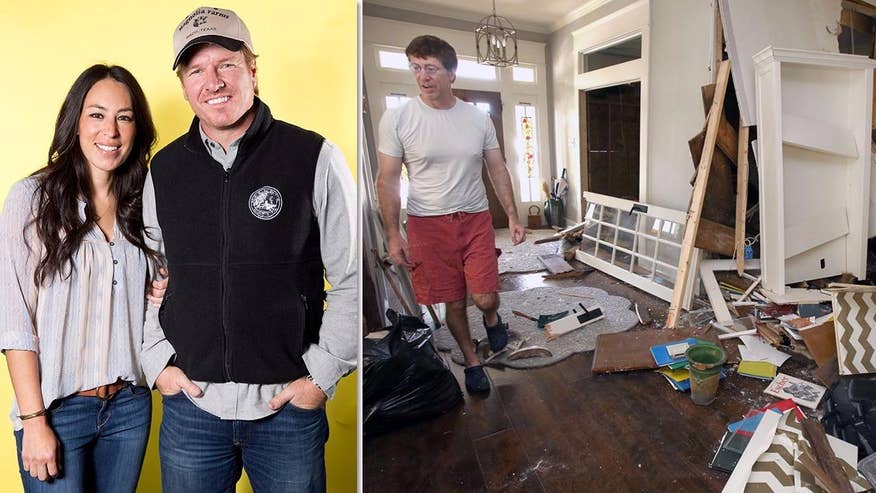 Fixer Upper stars Chip and Joanna Gaines are back in the spotlight, after a homeowner whose home appeared on the HGTV program said that she and her husband were deceived by Magnolia Realty, the real estate company owned by the reality show stars.
Its not the first time the Waco, Texas, couple has faced controversy. Here are some major moments and milestones in their careers.
1.

The Gaineses get married, March 2003

The couple tied the knot after meeting in 2001.

Joanna had worked for her father's Firestone business and starred in its television commercials, Country Living reported.

Chip told PopSugar that Joanna's father had put a family photo up behind a store counter, recalling, "I knew I'd marry her one day just by the picture on the wall."

Chip regularly went to the business looking for Joanna, and when he met her, he told her that he recognized her from the commercials, according to Country Living.

Together, Chip and Joanna are parents to Drake, 12; Ella, 10; Duke, 9; and Emmie, 7.

2.

'Fixer Upper' premieres, May 2013

The first episode aired on HGTV on May 23, 2013. There have been four seasons of the program, with a fifth season expected.

3.

Magnolia Market at the Silos opens, October 2015

The couple opened a complex in Waco in October 2015, where fans of the show can shop, eat, and also enjoy a lawn and garden, according to the Magnolia Market website.

"The Market itself is staged and set up with one goal in mind: to inspire you to own the space you're in," it says online. It is named for two silos at the site.

Joanna previously had a store that wasn't as large named Magnolia Market in Waco, Country Living reported.

4.

Magnolia House sells out six months' worth of reservations, August 2016

The couple's Magnolia House, a vacation rental, opened up bookings in August 2016 for January-July 2017 – and reportedly sold out in just one hour.

In February, the house opened bookings for July-December 2017 – and were filled in five minutes, People reported.

5.

Chip and Joanna release 'The Magnolia Story,' October 2016

The couple's book was released on October 18, 2016. Their website calls it "a story about love, adventure, and dreaming big."

The first issue of the couple's quarterly lifestyle magazine, "The Magnolia Journal," also came out earlier that month.

6.

BuzzFeed article focusing on couple's church and pastor is published, November 2016

An article published in late November on BuzzFeed reported that the couple's church, Antioch Community Church, is against gay marriage, and that pastor Jimmy Seibert called homosexuality "a sin." The article was criticized online, including in a Washington Post op-ed and in a tweet from New York Times columnist Ross Douthat.

Seibert told Fox News columnist Todd Starnes that the church is "absolutely not" against gay marriage.

"We are not only not anti-gay, but we are pro-helping people in their journey to find out who God is and who He has made them to be," he said.

Chip Gaines tweeted in early December, In times of trouble.. you'll find the gaines family at church. He also called on people to respect BuzzFeed reporter Kate Aurthur, who wrote the story.

We dont discriminate against members of the LGBT community in any of our shows, HGTV told Fox411. HGTV is proud to have a crystal clear, consistent record of including people from all walks of life in its series."

7.

'Fixer Upper' season 3 participant claims house-hunting on the show isn't real, November 2016

Show participant David Ridley told Fox News that he had bought his home before being picked to appear on Fixer Upper."

"You have to be under contract to be on the show, he said. They show you other homes but you already have one. After they select you, they send your house to Chip and Joanna and their design team."

His claim was apparently backed up by the shows application. HGTV told Fox 411 that fans of the program "enjoy the series because it focuses on the playful banter between Chip and Jo, their home renovation expertise, innovative design tips and families who get the help they need to transform a fixer upper into the home of their dreams."

8.

Spin-off show for Joanna is announced, March 2017

Joanna Gaines will star in "Fixer Upper: Behind the Design." Describing the new show in a video posted on Instagram on March 22 Gaines said that viewers will "get a more inside scoop of how we came up with a lot of the decisions and the design elements that we got to incorporate."

9.

Chip Gaines is sued by two of his former business partners for fraud, April 2017

Magnolia Realty's former co-owners John L. Lewis and Richard L. Clark sued Chip Gaines in a million-dollar fraud lawsuit, alleging he bought their shares while they worked with HGTV before it became a sensation. The company was first launched between the three men in 2007, with Gaines buying them out in 2013, the plaintiffs' petition says, according to the Houston Chronicle.

Lewis and Clark's lawsuit alleged that "at a time when only the Defendants knew that 'Fixer Upper' had been fast-tracked for a one-hour premier on HGTV and was on the verge of radically changing their lives and business enterprises, Chip Gaines conspired to eliminate his business partners — notwithstanding their longstanding friendship– in order to ensure that he alone would profit from Magnolia Realty's association with Fixer Upper."

"We are confident that these claims will be found to be meritless," an attorney for Chip Gaines told Fox News.

10.

Chip announces plans for a memoir, May 2017

"I've done so many dumb things in my day that I had enough material to write a book…so I did!" he wrote in an Instagram post. He said the book will be called "Capital Gaines – Smart Things I Learned Doing Stupid Stuff."

11.

Chip and Joanna help paralyzed Waco firefighter, June 2017

Chip and Joanna were among those who assisted firefighter Garth Goodwin after he suffered a freak accident when his tools came into contact with exposed electrical wires. Firefighters reached out to contractor Wes Waller for help building Goodwin a home; Waller in turn sought assistance in building the house through Facebook. "Within a week, 80 percent of the house was donated," he recalled.

Waller asked Chip and Joanna if they could cover the remaining $20,000 needed for lumber. "Yesterday, I [decided] I'm just going to ask [the Gaineses] for it and 30 minutes later, they said yes," he explained.

12.

Couple announces Magnolia Table, June 2017

The Gaineses said that Elite Cafe, the historic former Waco restaurant they purchased in 2016, will be named the Magnolia Table and serve breakfast, brunch and lunch.

They said they hope to open the restaurant by the end of 2017. Joanna Gaines wrote in a June 20 blog post that she has many great memories of family Sunday brunches at the Elite Cafe.

13.

Homeowner Kelly Downs says she and her husband were 'deceived,' July 2017

An alleged drunk driver was arrested after smashing into Ken and Kelly Downs'Waco home on July 8. Ken and Kelly, who weren't injured, had looked for a home in the Texas city with Magnolia Realty's help, the Waco Tribune-Herald reported. The Gaineses also renovated the home.

"It's like the Wild West here," Kelly Downs told the newspaper. "There's been a lot of commotion coming from the bars and the store across the street. It's been a problem from the beginning. We've lived here a year and a half and we feel deceived by the city of Waco and Magnolia Realty."

The Associated Press contributed to this report.
Read more here: http://www.foxnews.com/