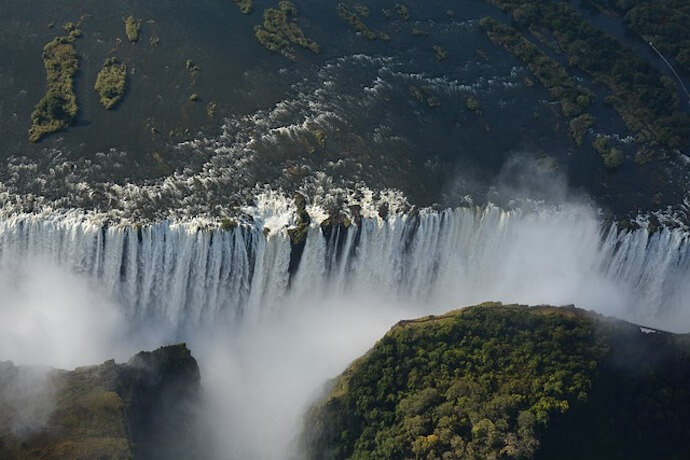 Despite R&B legends TLCs classic admonition not to go chasing them, waterfalls remain among those magical natural features that can put a given destination on millions of peoples world travel bucket lists.
Youll find waterfalls on every single continent. Countries like New Zealand and Norway are known for the volume of waterfalls they offer. Argentina/Brazil and Zambia/Zimbabwe are known for the sheer size of their waterfalls, while Japans falls are renowned for their beauty. Even ice-cold Antarctica has a famous waterfall!
While most of us have a particular image of what a waterfall looks like, there are actuallymany types. Waterfalls can form cascades, horsetails, plunges, cataracts, fans, squares, and even be frozen. Each type is different, and each category has its own superstars when it comes to attracting tourism.
Of course, measuring the biggest waterfalls in the world is complicated. Some of the worlds highest waterfalls are fed by small streams, with just a tiny sliver of water careening down. Some of the most voluminous falls drop just a few feet. We rarely think of waterfalls in terms of width, but thats another way of measuring them.
So, when we say the biggest waterfalls, how do we judge? Are we talking about the tallest? The widest? The volume of water? The longest free fall? There really is no right or wrong answer nor are the largest waterfalls always the most impressive to see.
So, in the interest of being as thorough as possible, our list of the worlds largest waterfalls goes far, wide, high, low, and in-between to point out the best waterfalls travelers should visiton each and every continent.
READ MORE: 10 Incredible Waterfalls in Iceland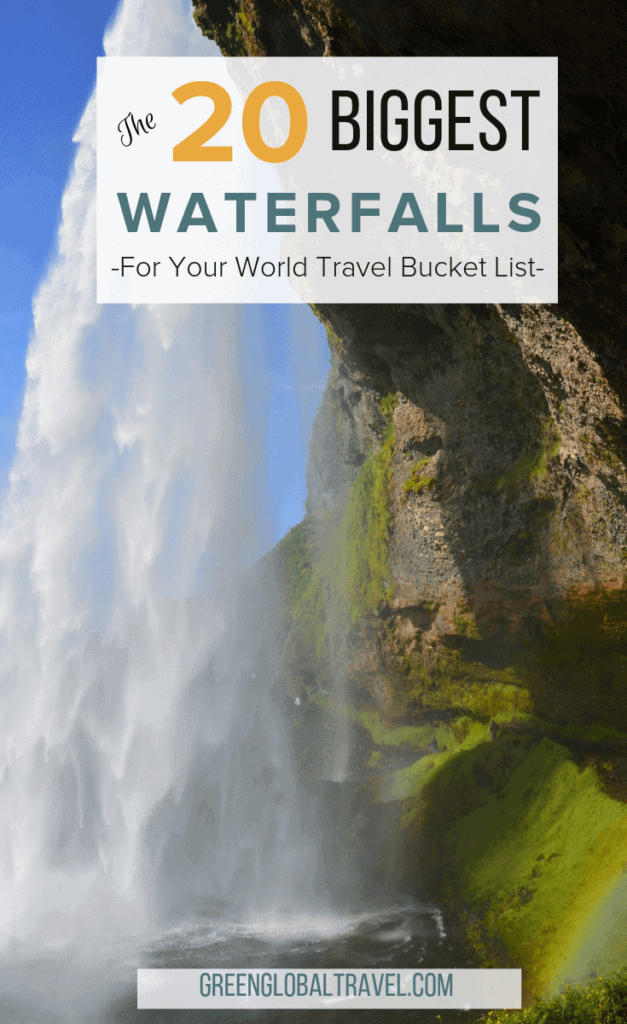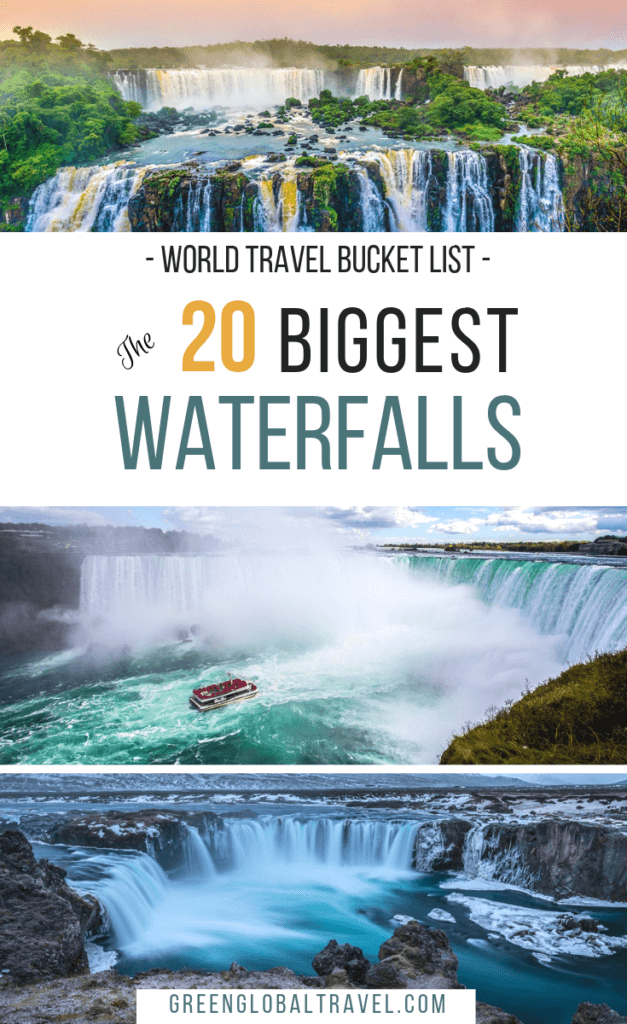 THE 20 BIGGEST WATERFALLS IN THE WORLD Biggest Waterfalls in Africa Biggest Waterfalls in Antarctica Biggest Waterfalls in Asia Biggest Waterfalls in Australasia Biggest Waterfalls in Europe Biggest Waterfalls in North America Biggest Waterfalls in South America
BIGGEST WATERFALLS IN AFRICA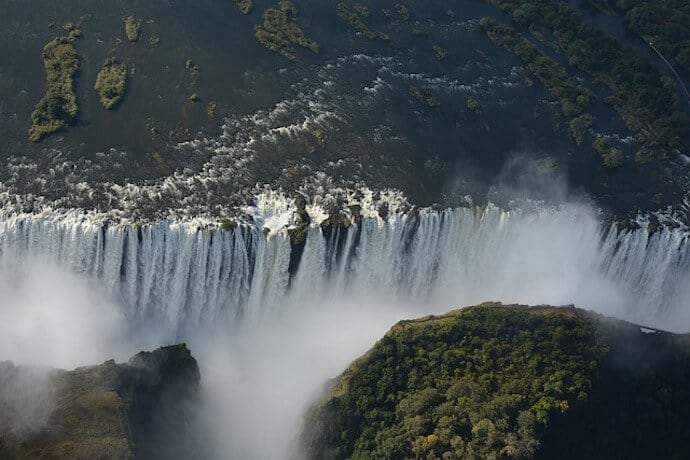 Victoria Falls (Photo by otsuka88 courtesy Pixabay) Inga Falls & Livingstone Falls
Frequently listed among the worlds largest waterfalls, Inga Falls is located in the Democratic Republic of Congo. Its formed by the Congo River, which is ranked as the ninth longest river in the world.
In terms of volume of water, its considered the biggest waterfall in world, moving at a rate of over 900,000 cubic feet per second.But Inga Falls is remarkable for some of its other noteworthy features as well.
Though it drops only 315 feet, Inga Falls is over 9 miles long. Its also exceptionally wide, with an average width of 3,000 feet and a maximum width of over 2.5 miles! At its widest, the falls separate into hundreds of different channels and rivulets.
Despite the fact that it is regularly designated as the worlds largest waterfall by volume, many consider the majority of it to be nothing more than rapids. It does, however, have one steep drop of around 70 feet, which indisputably makes it a waterfall.
Inga Falls is the site of one of the worlds largest hydroelectric dams. Its also close to Livingstone Falls, which is often considered the most beautiful part of the Congo River, as well as the worlds second largest waterfall by volume.
READ MORE: The 20 LongestRivers in the World (By Continent)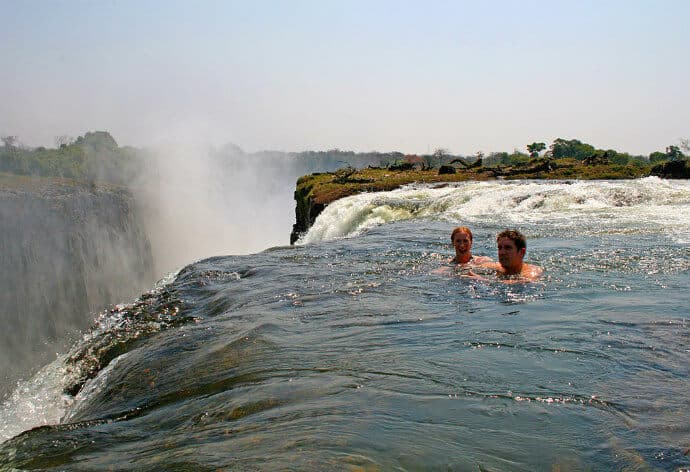 Tourists in the Devils Pool, Victoria Falls by Ian Restall at en.wikipedia [Public domain], from Wikimedia Victoria Falls
One of Africas top tourist attractions, Victoria Falls is neither the tallest nor widest falls on the planet. But it is sometimes considered the worlds largest waterfall because it is both tall (354 feet) and wide (5,600 feet), producing the overall biggest sheet of falling water.
Victoria Falls is formed by the Zambezi River, which creates a natural border between Zimbabwe and Zambia. So it is technically located in both countries Livingstone, Zambia and Victoria Falls, Zimbabwe. The falls are formed when the river lowers in a single drop.
The waterfall is also known locally as Mosi-oa-Tunya, which translates as the smoke that thunders. It was named by David Livingstone, the first European believed to have seen the falls, who named it in honor of Queen Victoria. It is preserved as a UNESCO World Heritage Site under both names.
The world-renowned Devils Pool is a seemingly precarious place to take a dip at the top of the falls. There are also helicopter rides, bungee jumping, and national parks on both sides. But unfortunately mass tourism is beginning to threaten the natural beauty of the site.
READ MORE: How Mass Tourism isDestroying DestinationsTravelersLove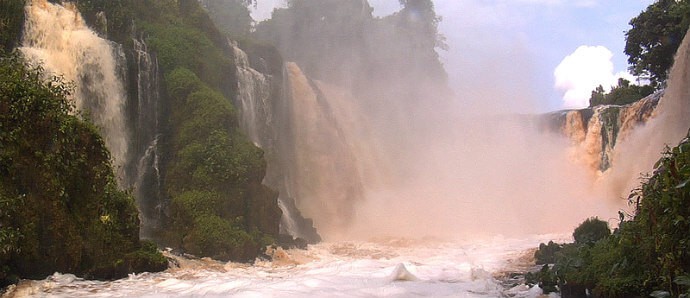 Kongou Falls by Lengai101 CC BY-SA 3.0, from Wikimedia Commons Kongou Falls
One of the most powerful waterfalls in the world, GabonsKongou Falls is over 10,000 feet wide and pushes nearly 32,000 cubic feet of water through per second. Its formed by the Ivindo River, which also features several other falls. But Kongou is easily its largest.
Kongou Falls is notable for having an unusual configuration, with several different streams, cascades and steps separated by islands. Kongou is really intermingled with the rainforest that surrounds it. Actually, though the waterfall itself is spectacular, its this lush surrounding forest that garnered its place on the list.
Part of Ivindo National Park, Kongou Falls is located in what many experts consider to be a modern-day version of the Garden of Eden. Gabon is 85% rainforest and, though accessible, there are few signs of civilization going to and from the falls. This rainforest is home to some the densest populations of forest elephants, chimpanzees, and gorillas on the planet.
The park was established in 2002, and a bid was put in for UNESCO status three years later (though it has never gotten World Heritage recognition). In 2007, plans for building a hydroelectric power station nearly destroyed the falls, but environmentalactivistswere able to stop the construction.
READ MORE: The 20 Biggest Forests in the World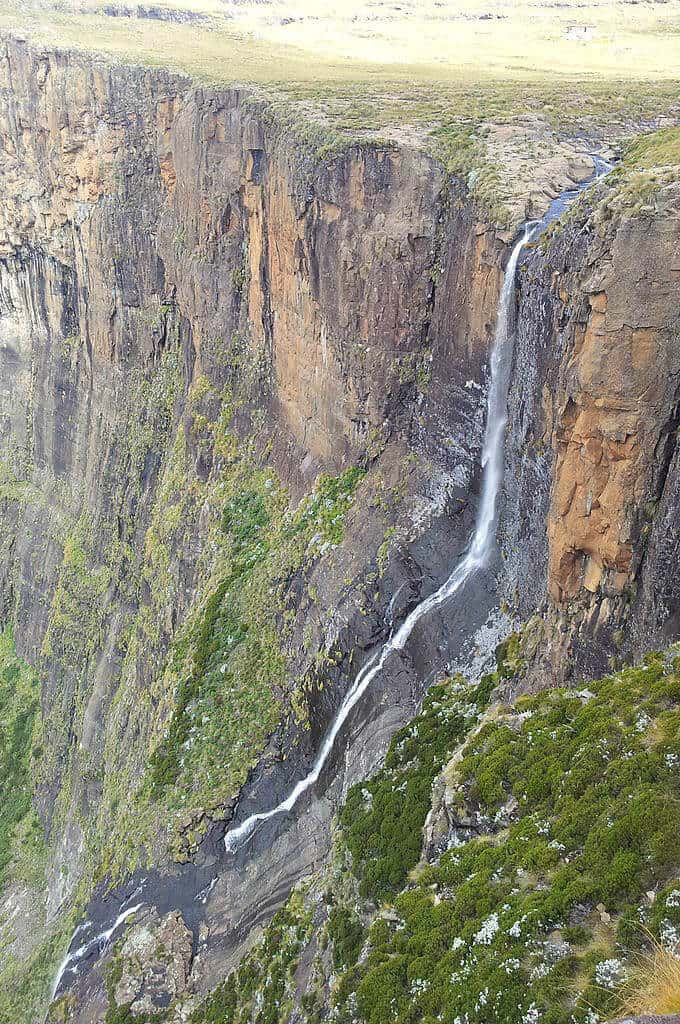 Tugela Falls first drop off by Andynct CC BY-SA 4.0, from Wikimedia Commons Tugela Falls
Located in South Africa, Tugela Falls makes five impressive dives, plunging for about 3,110 feet in all. Its globally recognized as Africas tallest waterfall, and the worlds second tallest waterfall.
Due to the five plunges (as opposed to just one), it is also considered the highest cascade on earth, which is a worthy superlative.
Tugela Falls (also known as Thukela Falls) is fed by the Tugela River, which originates from the Mont-aux-Sources. The falls name comes from a Zulu word meaning sudden. Its located in the Royal Natal National Park, cascading down the parks highlight the Drakensberg Amphitheatre, a huge rock wall thats over 1/4-mile high and three miles long.
Tugela Falls has been remeasured and found to be over 100 feet taller than its currently recognized height, but the claim is still awaiting verification. This increase would make it the tallest waterfall in the world, over Venezuelas Angel Falls (an uninterrupted plunge). Consequently, controversy has brewed regarding which one gets the official title.
Whichever side one chooses in the tallest waterfalls debate, Tugela is remarkable, as is the national park that surrounds it. There are several routes for hiking up to the top of the falls, and its easy to spot from the main road of the park during rainy times.
READ MORE: Safari in Londolozi GameReserve(South Africa)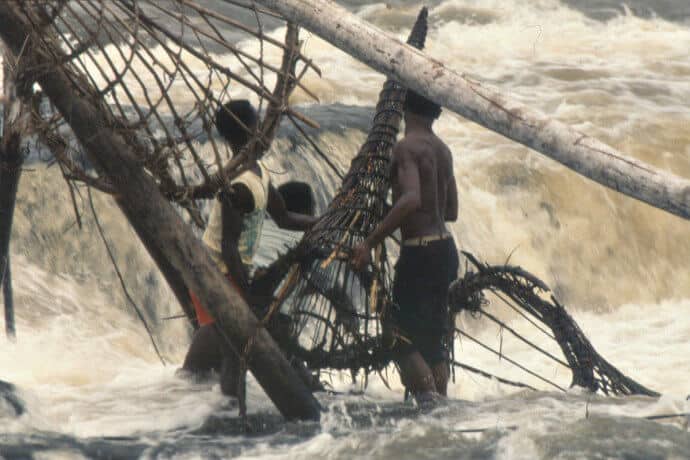 Local Fishermen in Boyoma Falls/Wagenia Falls by Foto Ad Meskens [Attribution, CC BY-SA 3.0 Stanley/Wagenia/Boyoma Falls
Formerly recognized as Stanley Falls, Boyoma Falls is now the official name of seven relatively short cataracts (steep, powerful waterfalls) and a series of rapids formed by the Lualaba River in the Democratic Republic of the Congo.
The falls spread out over 60 miles, dropping just 200 feet along the way, with the cataracts each being less than 20 feet.
Boyoma Falls ranks as the third biggest waterfall in the world in terms of volume, with all three located in the Congo. While Inga and Livingstone Falls are both formed by the Congo River, Boyoma is formed by the Lualaba, which then joins the Congo.
Boyoma Falls also has one other name, Wagenia Falls, which is what many French-speakers call it. This name derives from local fisherman, called thewagenia, who have developed a unique technique for fishing the falls. They construct wooden tripods over holes carved out by the rapids, where they ensnare large fish in baskets.
READ MORE:Fishing Mobile Bay & the Mobile-Tensaw Delta
BIGGEST WATERFALL IN ANTARCTICA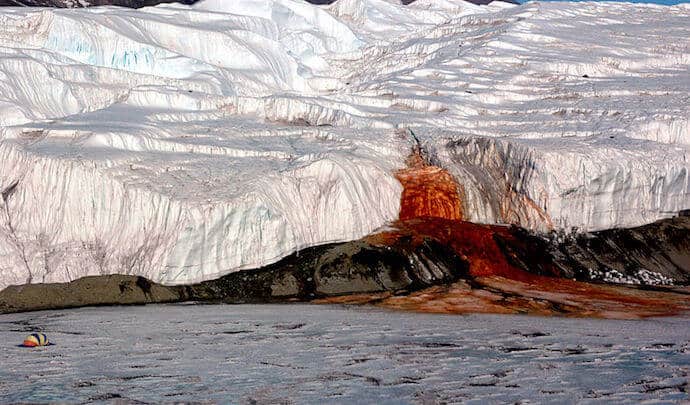 Blood Falls, the Creepiest Waterfall in the World, by Peter Rejcek via CC 2.0 Blood Falls
When picturing waterfalls, rarely does Antarctica come to mind. And for most people, the thought of cascades of blood kind of turns the stomach. But thats basically what the worlds coldest continent has to offer up for this list!
Blood Falls, though not quite the vampires dream-come-true one might envision, is definitely odd enough to warrant such a name.
Blood Falls is buried under a quarter-mile of ice. Roughly five million years ago, sea levels rose and formed a saltwater lake in eastern Antarctica. Millions of years later, the lake was completely covered by glaciers. When the glaciers scraped the bedrock below, it churned lots of iron into the water.
The salinity of the water continued to rise as the glaciers froze over the lake, and that water became too salty to freeze. Blood Falls began to flow when water seeped through a fissure in the Taylor Glacier. The waterfall has never seen the light of day, and its completely devoid of oxygen. As a result, when the iron-rich water spills into Lake Bonney, the air causes it to immediately rust and turn red.
Though not necessarily huge on the global scale, Blood Falls is technically the biggest waterfall in Antarctica, and its just too weird not to include here. Unfortunately, it can only be reached by cruise ships visiting the Ross Sea or via helicopter from nearby scientific research stations.
READ MORE: Penguins of Antarctica Photo Gallery
BIGGEST WATERFALLS IN ASIA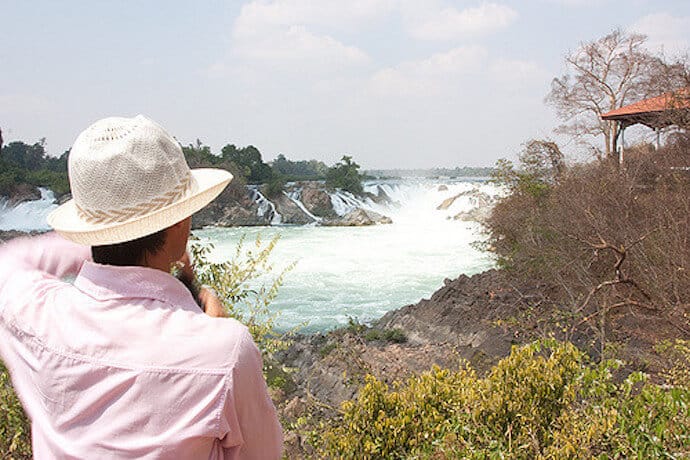 Khone Falls, the Widest Waterfall in the World (Photo by Mr. ATM courtesy Flickr via CC 2.0) Khone Falls
Khone Falls is located in the south reaches of Laos, culminating near the border with Cambodia.
Theyre the major obstruction that prevents the Mekong River from being navigable for trade between Laos (and China) and Cambodia (and Vietnam). It only tumbles down a total of 69 feet over a collection of cascades and rapids.
Despite its short drop, Khone Falls could technically be considered the worlds largest waterfall. Its only fifth in terms of volume, with just over 400,000 cubic feet of water per second. But it averages over 35,000 feet across, which makes it by far the widest waterfall in the world.
Interestingly, the falls are most readily apparent when the weather is a bit drier. During monsoon season, when the Tonle River becomes Tonle Sap Lake and backs up to the Mekong River, the waterfall basically disappears into little more than a collection of rough currents.
Khone Falls are the home of plabuck, an endangered catfish that grows to be over ten feet long and more than 600 pounds. Theyre sometimes considered the largest freshwater fish in the world, though a couple of sturgeon species and a freshwater stingray are actually bigger.
READ MORE: The Pastoral Paradise of Muang Ngoi, Laos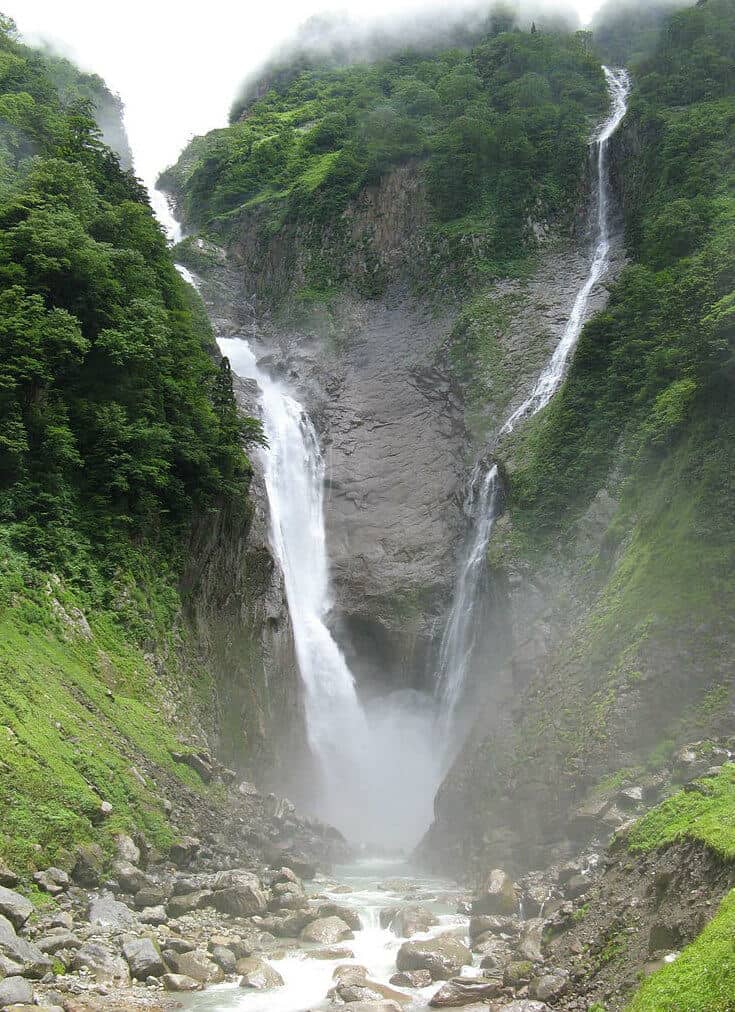 Hannoki Falls & Shomyo Great Falls by I, Kahusi GFDL, CC-BY-SA-3.0 Hannoki Falls & Shomyo Great Falls
Considered twin falls, Japans two tallest waterfalls are Hannoki Falls and Shomyo Great Falls.
Technically Hannoki which boasts a single drop of 1,640 feet is the highest of Japans waterfalls. But it is seasonal, and only visible from April to July because it is dependent on snowmelt. The tallest permanent waterfall in Japan, Shomyo Great Falls, measures 1,148 feet and occurs in four stages.
Amazingly, these two towering falls are located side by side. They both flow through the Midagahara Plateau before falling in a V-shape into a single pool thats around 200 feet across and 20 feet deep.
The finest view of the two waterfalls is said to be from Shomyo Bridge at the Takimi Orchard. The best time to visit the falls is late spring and early summer, when the areas snowmelt is at its greatest. From November to April, the roads are often closed due to snow.
There are numerous other notable waterfall pairings in Japan. Ginga and Ryusei Falls are also twin falls, known as the husband and wife waterfall. Other admirable pairings include Amedaki and Nunobiki Falls, as well as Shiraito and Otodome Falls.
READ MORE: The Beauty ofJapan in 15 Fabulous Photos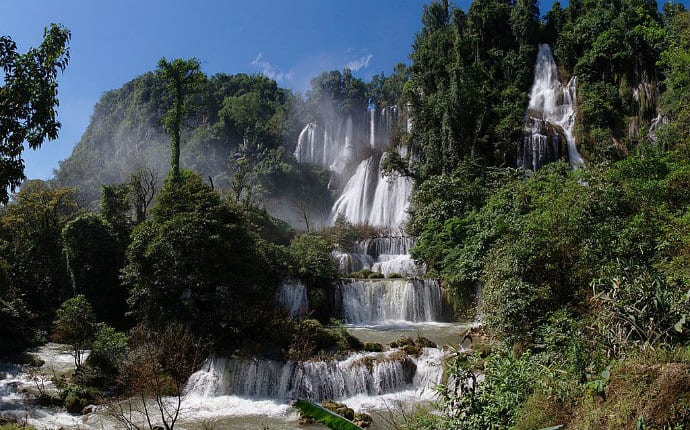 Thi Lo Su waterfalls, Umphang district, Thailand by Yxejamir CC BY-SA 3.0or GFDLfrom Wikimedia Thi Lo Su Waterfall
Locatedin northwestern Thailand, Thi Lo Su (or Black) Waterfall is the countrys tallest and largest waterfall. Its just under 1000 feet high and 1,500 feet wide. While it doesnt rank as one of the largest waterfalls in the world, it is considered by many to be amongst the most beautiful.
Thi Lo Su Waterfall is located within theUmphang Wildlife Sanctuary, a UNESCO World Heritage Site. Bordered byMae Wong National Park in the east, Thung Yai Naresuan Wildlife Sanctuary in the south, and several national parks in the Kanchanaburi province, its part of Southeast Asias largest protected area.
Though Thi Lo Su is huge and sometimes thundering, the waterfall is so remote that it was only discovered a couple of decades ago. It is particularly striking because there are a multitude of streams, pools, and cascades that comprise it.
The waterfall is good for swimming during dry season (November to May), but is far too perilous during peak rainy season (August through October). With a little determination, it can be reached by road in dry season or by a raftinghiking combination otherwise. The park also has a large camping area equipped with bathrooms, showers, and a shop.
READ MORE:The GibbonConservationCenter in Phuket, Thailand
BIGGEST WATERFALLS IN AUSTRALASIA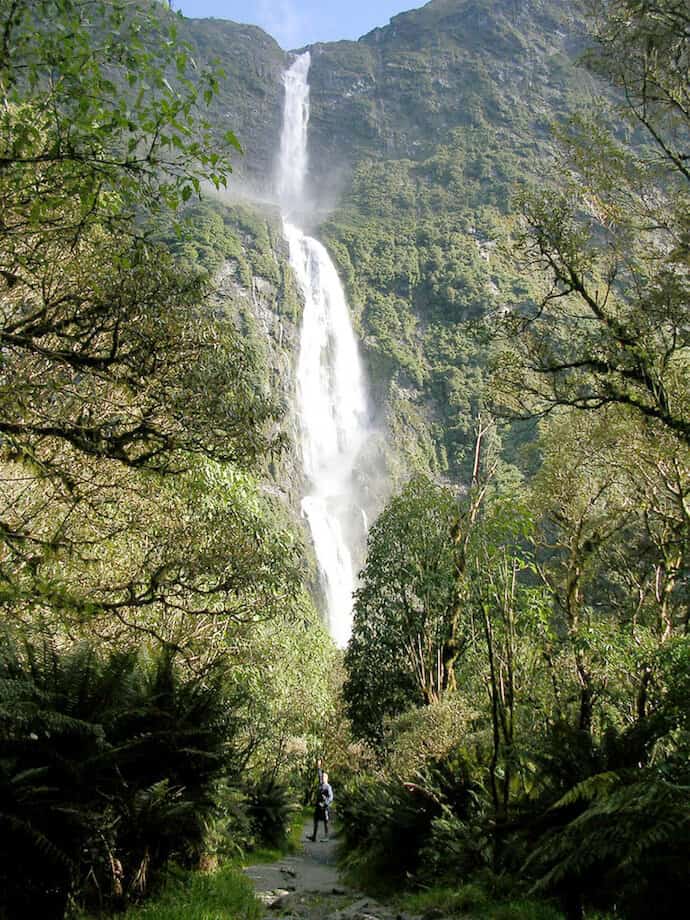 Sutherland Falls, Tallest Falls in Australia (Photo by Department of Conservation via CC 2.0) Browne Falls & Sutherland Falls
If you want to see big waterfalls in Australasia, New Zealand is the place to go. Browne Falls is considered the countrys highest, as well as the 9thtallest waterfall in the world. But this is not without debate: New Zealands other highestwaterfall is Sutherland Falls.
Browne Falls is part of Fiordland National Park, a land densely populated with waterfalls, but none so high as this one. The falls careens some 2,744 feet before bottoming out in Doubtful Sound. But because it has very little free-falling water, some folks dont give it its proper due.
On the other hand, Sutherland Falls is significantly shorter a mere 1,900-plus feet. Even it doesnt free fall this entire way, but instead uses three distinct steps to make its full descent. Its highly inaccessible, requiring a 4-day trek along the Milford Track (or a pricy flight) to see it.
Fiordland National Park, a UNESCO World Heritage Site, is home to both of these waterfalls. The park also offers plenty of hiking trails, as well as stellarLord of the Rings filming locations to visit.
READ MORE: Things To Do In New Zealand for Nature Lovers
BIGGEST WATERFALLS IN EUROPE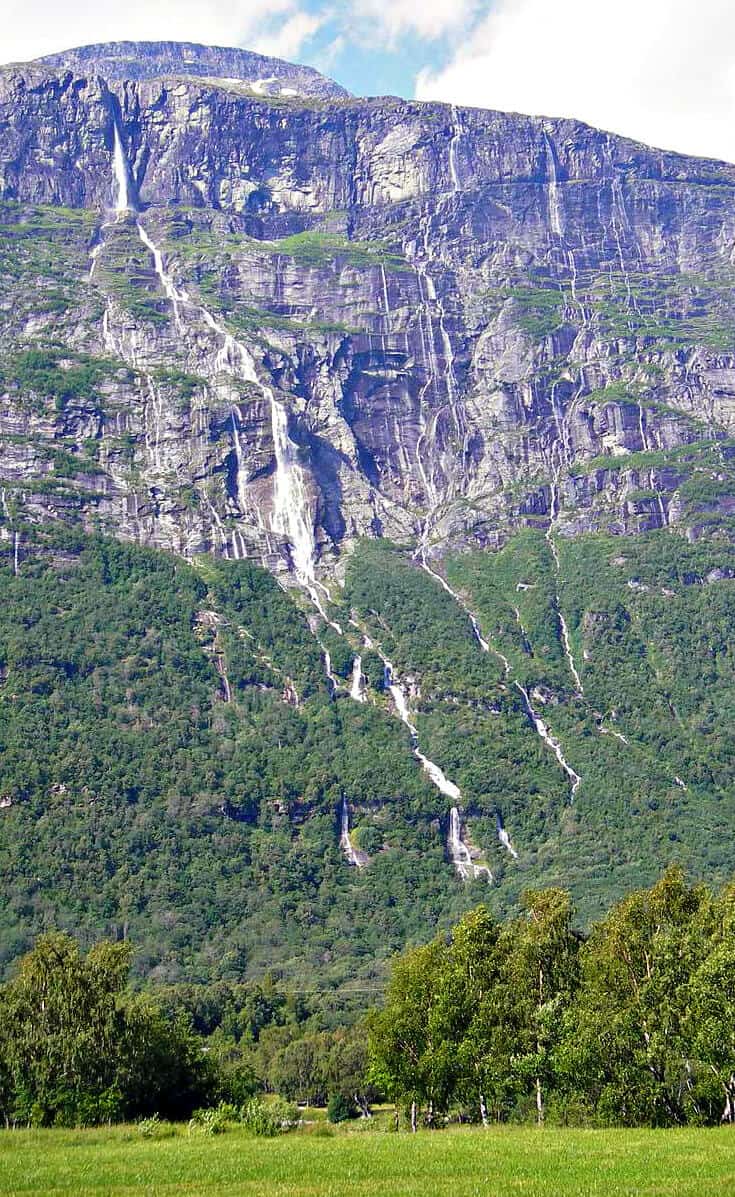 The Vinnufossen Waterfall in Sunndal, Norway by Carl S Bj GFDLor CC BY-SA 3.0 Vinnufallet &Balifossen
With epic mountains around seemingly every turn, Norway is often included in unofficial lists of countries with the most waterfalls. So it shouldnt come as a huge shock that Europes tallest waterfall, Vinnufallet, is located in the larger-than-life land of the Vikings.
Vinnufallet is over 2,800 feet tall, qualifying it as the sixth highest waterfall in the world. Its composed of four separate drops, the longest of which is just under half the total height of the falls. This ranks as the fifthtallest single drop of any waterfall on the planet.
Vinnufallet is part of the Vinnu River, which flows down Vinnufjellet Mountain, fed by a hugeglacier. At its base, Vinnufallet joins the River Driva. When the weather is clear, the whole thing can easily be seen from the highway (Highway 70).
Norway is also home to the second highest waterfall in Europe, Balifossen, which stands at a whopping 2,510 feet. This waterfall is fed from a small watershed, so it doesnt have much volume. In fact, it stops flowing for the year once the snowmelt has waned.
READ MORE: Our Epic Fjords of Norway Road Trip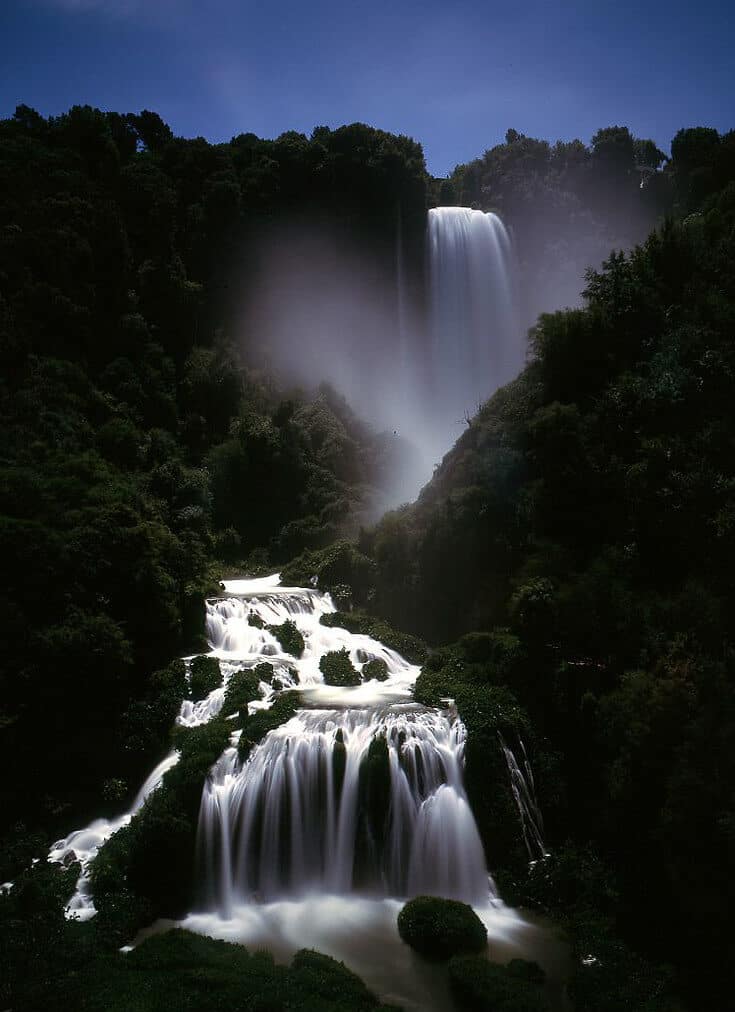 Cascata delle Marmore, Italy by Fabio Tiberi CC BY-SA 3.0, from Wikimedia Commons Cascata delle Marmore
Located in Umbria, Italys showpiece waterfall has a unique distinction amongst all the others on our list: Its the only one here that was man-made.
Not so surprisingly, it was the ancient Romans who built it (What didnt they build?!). At 541 feet high, Cascata dell Marmore is the tallest man-made waterfall in the world.
Cascata dell Marmore is fed from a portion of the Velino River, the rest of which is now directed into a hydroelectric plant. It was originally built to help move stagnant waters, which were causing local issues with disease.
But the fix created another troublesome situation because its floodwaters threatened the city of Terni. The problem remained for centuries until Catholic Popes began ordering that new canals be dug in order to regulate the waters flow.
Now the flow of the waterfall is completely controlled by the Galleto power plant, which was built in the late 1920s. The gates that hold the water back are opened on a published schedule (typically twice a day) for tourisms sake, and it creates the amazing effect of a full river filling an empty space in a matter of seconds.
READ MORE:Le Marche, Italy (A LocalsFavoritePlaces toVisit)
Icelands most popular waterfall Gullfoss Waterfall via pixabay Gullfoss
If Norway has the most waterfalls in Europe, Iceland is not far behind, and it also has some of the most spectacular.
Gullfoss (or Golden Falls) is likely Icelands most popular waterfall because it is part of the golden circle route, which includes numerous glaciers, tectonic plates, geysers, and a national park.
Gullfoss doesnt rank amongst the worlds biggest waterfalls, but its likely the most voluminous in Iceland. In total, the water only drops 100 feet. However, the falls are truly remarkable in that the double cascade turns the Hvt River 90 degrees and drops it down into a crevice.
This configuration creates a unique explosion of mist and rainbows, making Gullfoss one of the planets most frequently photographed waterfalls.
Gullfoss was once threatened with the possibility of a hydroelectric power plant. At the time the waterfall had private owners, who were renting it to a foreign company. Legend has it that their daughter threatened to throw herself over the falls in order to save the falls. Theres even a monument to commemorate this decidedly fictitious account.
Nonetheless, Gullfoss was eventually sold to the state of Iceland rather than a power company. Thank goodness! Because it still remains just as gorgeous as ever.
READ MORE: The Worlds Best Road Trips (WorldTravelBucket List)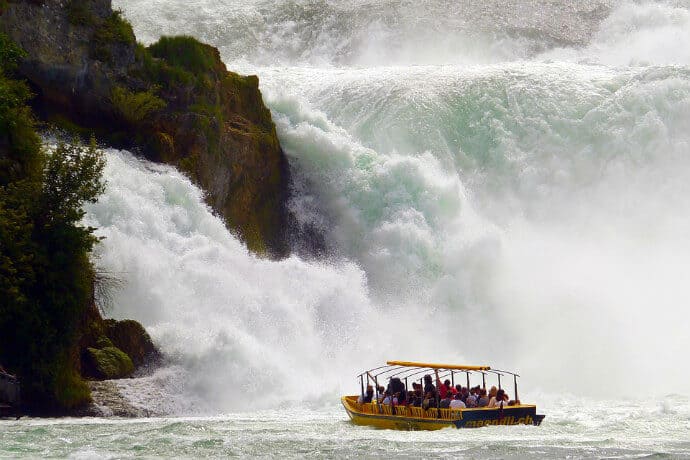 Biggest Waterfall in Europe -Rhine Falls via max pixel Rhine Falls
The largest waterfall in Europe by volume is on the Upper Rhine River in Switzerland.
Though its only about 75 feet high, Rhine Falls is nearly 500 feet wide. It allows an enormous amount of water to cascade through, particularly in the summer, when the snow melts in the Alps.
The Rhine Falls are believed to have formed about 14,000 to 17,000 years ago, during the last Ice Age. They were the result of a resilient bedrock of limestone: The falls are divided into two sections due to a pillar-like formation sticking up in the middle of the river.
Rhine Falls is also a big tourist destination in Europe, receiving over a million visitors annually. However, that hasnt stopped electric companies from fantasizing and pitching hydroelectric power plants. Thankfully, Switzerland has resisted thus far.
READ MORE: The Tallest Mountains in the World
BIGGEST WATERFALLS IN NORTH AMERICA

Biggest waterfall by volume in the USA- Niagara Falls via pixabay Niagara Falls
Niagara Falls is exceptionally big the largest waterfall by volume in the USA and the widest waterfall in Canada. But it is most recognized for being, well, really recognizable.
Over 20 million people a year visit Niagara Falls. It has become a place of legend the Vegas of waterfalls replete with weddings, kitschy hotels, and Hollywood cameos. But its stats are definitely worthy of all the hype.
Niagara Falls dumps 85,000 cubic feet of water per second. On the Canadian side, the Horseshoe Falls section is over 2,000 feet across and drops nearly 200 feet. The American Falls section is over 1,000 feet wide and is just under 200 feet high. Theres also a third, smaller drop in the US that completes the falls three cascades.
One of the most interesting things about Niagara Falls is that it is considered to be the fastest moving waterfall in the world. Were not talking about the water, but the falls themselves. Over the last 12,500 years, Niagara Falls has moved seven miles upstream due to steady erosion of the bedrock.
Aside from being stunning to look at, Niagara Falls has been the site of many daring feats. In the 1850s, 60s, and 70s, Frank Gravelot walked a tightrope across the Niagara River Gorge. The 1880s saw a rash of daredevils going over the falls in barrels. Then, of course, there was Supermans daring rescue of a plummeting boy
READ MORE:Visitors Guide to the Finger Lakes Waterfalls (New York)
Tallest seaside cliffs in the world- Molokai, Hawaii via pixabay Oloupena Falls &Puukaoku Falls
In the United States, Hawaii is the state with the most spectacularly high waterfalls.
Oloupena Falls is the tallest of Hawaiis waterfalls, and the fourth highest in the world. Measuring over 2,900 feet high, it is fed by only a small seasonal stream. Consequently, it has a very thin ribbon of water that nosedives off the Haloku Cliffs, which are the tallest seaside cliffs in the world.
Originating from those very same cliffs, Puukaoku Falls is also very tall over 2,750 feet earning it the eighth spot on the list of the worlds highest waterfalls. Puukaoku is an older waterfall that has carved away a lot of the volcanic rock upon which it flows. So, unlike the younger falls, it is fairly difficult to see from afar.
Both of these waterfalls which are the two tallest in the USA are located on the island of Molokai. They are so remote that no hiking trails access them, meaning they can only be seen from the water or from a plane.
The weather can be so intense along these immense cliffs that the coastal winds sometimes stop the falling water, pushing it upwards into a dispersed mist.
READ MORE:Things to Do in Kauai, Hawaii (For Nature Lovers)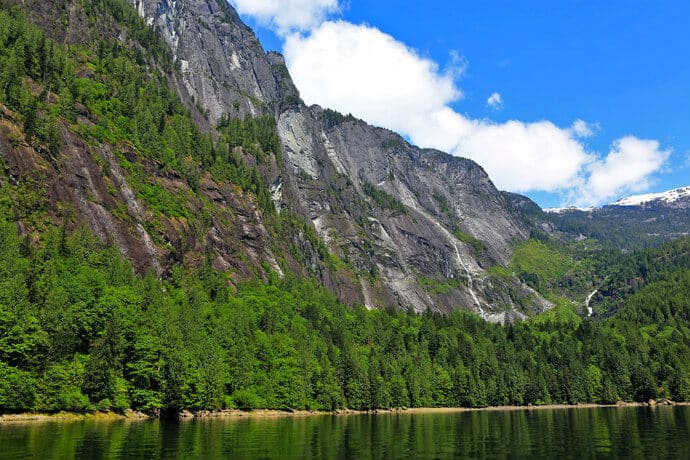 James Bruce Falls by Klaus Johansson CC BY-SA 4.0 from Wikimedia Commons James Bruce Falls
Hawaii may have the tallest waterfalls in the United States. But the highest on mainland North America (and the ninth highest waterfall in the world) is James Bruce Falls in British Columbia, Canada.
Its located in Princess Louisa Marine Provincial Park, which is surrounded by snow-tipped granite mountains that rise sharply to around 7,000 feet. James Bruce Falls gushes some 2,755 feet down to the Princess Louisa Inlet.
The falls are named after two parallel streams that originate in snowfields, one of which melts by mid-summer and the other of which remains frozen year-round. Just downstream from the waterfall (which feeds into Loquilts Creek) is the more famous Chatterbox Falls.
Chatterbox Falls empties into the Loquilts River, and is a popular destination for boaters. But it stands a miniscule 120 feet tall and is a large fan waterfall, which means it widens as it drops. It may bot be as big as James Bruce, but its backdrop is incredible.
READ MORE: The Best Canoe Trips (World Travel Bucket List)
BIGGEST WATERFALLS IN SOUTH AMERICA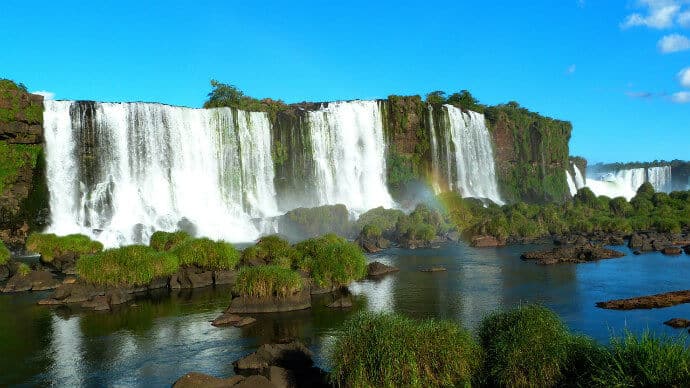 Sixth biggest waterfall in the world Iguazu Falls, Brazil via pixabay Iguazu Falls
Consuming the border betweenArgentina and Brazil with rumble and spray, Iguazu Falls stretches some 8,800 feet wide and dives down over 269 feet.
It is truly a force to be reckoned with, unloading over 62,000 cubic feet of water per second (making it the sixth biggest waterfall in the world in terms of volume). It has at least 150 different drops, which meander through countless islands and rock formations along the falls ledge.
Iguazu Falls is formed when the Iguazu River flows off the Paran Plateau. While much of the rivers current is cut up in separate cataracts across the waterfalls 1.7 miles of edge, about half of the water falls into a tight spot known as the Devils Throat. Nearly 3,000 feet of the edge doesnt have any water flowing over it at all.
The falls occur after the river bends, with most of the river basin (95%) being on the Brazilian side of the border and most of the waterfalls (80%) on the Argentine side. On the Brazilian side, it is part of Iguau National Park; in Argentina it is known as Iguazu National Park. Together, these parks are a designated UNESCO World Heritage Site.
In terms of famous waterfalls to visit, this one ranks right up there with Victoria Falls and Niagara Falls. There are actually two international airports located there in order to provide easy access to this wonder of the natural world.
READ MORE: The Top 10 Things to Do in Patagonia
Yumbilla Falls, Peru by Fregopie CC BY-SA 3.0, from Wikimedia Commons Tres Hermanas & Yumbilla Falls
Peru is known for its Inca ruins, particularly Machu Picchu, and those ruins are famous for being located at high elevations within the Andes.
Where there are towering mountains and flowing streams, there are bound to be tall waterfalls. Peru is home tothe worlds third tallest waterfall:Tres Hermanas, or Three Sisters, measures 2,999 feet high.
Fed by the Cutivireni River, the waterfall gets its name from the fact that Tres Hermanas falls in three different sections. It is located in Otishi National Park in the Junin Province of Peru, in the countrys central southwest region. Tres Hermanas is surrounded by beautiful montane forest.
Peru is also home to the worlds fifth highest waterfall, Yumbilla Falls, which are less than 60 feet shorter than Tres Hermanas. Created by the Utubamba River, Yumbilla drops in four or five (this is somehow up for debate) separate stages. Its also located in the Andes Mountains, but it is encircled by the Amazon Rainforest.
READ MORE: Meeting the People of the Amazon Rainforest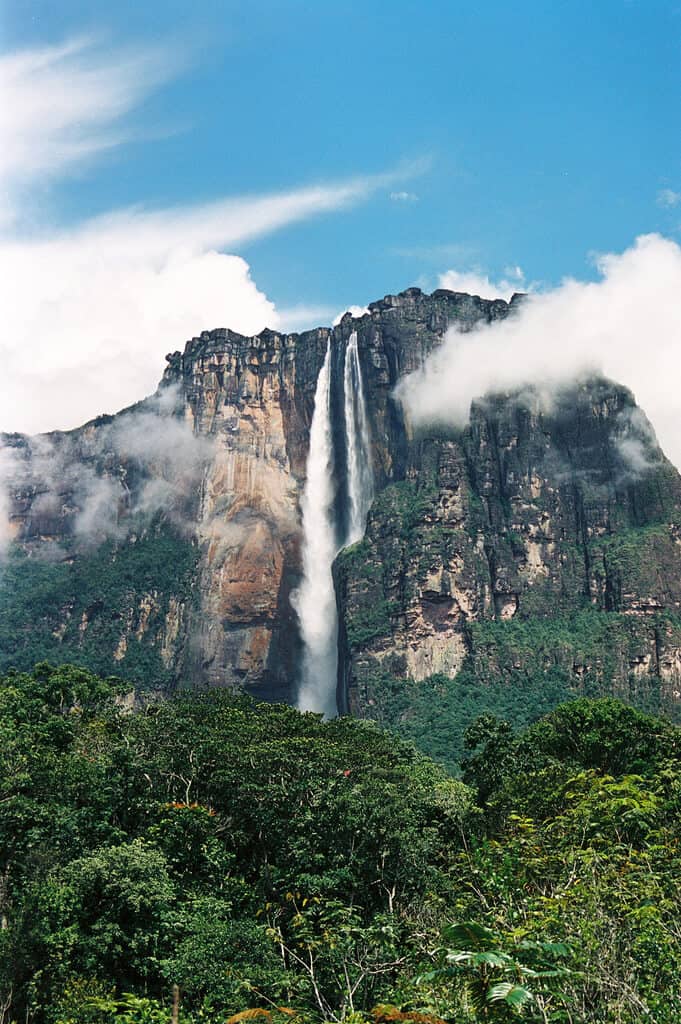 Angel Falls in South America, the Worlds Tallest (Photo by David Kjelkerud courtesy Flickr via CC 2.0) Angel Falls
Perched high in the remote mountains of Venezuela, Angel Falls is widely considered the worlds tallest waterfall, stretching the measuring tape some 3,212 feet high.
The remote waterfall is located deep in the jungle of Canaima National Park, a UNESCO World Heritage Site. The area is perhaps most famous to moviegoers as the inspiration for Paradise Falls from the 2009 Pixar movie Up.
For the most part, Angel Falls consists of a single plunge of well over 2,300 feet. That is followed by 1,300-plus feet of sloped cascades that end in another 100-foot drop. At the base, it measures 500 feet across. It empties into Rio Kerepakupai Meru, which is the indigenous name (in 2009, Hugo Chavez declared it as the official name) of the falls.
Angel Falls was named for an American pilot, Jimmy Angel, who landed atop Auyantepui, the tabletop mountain from which the falls descend.His plane was stuck, so he, his wife, and two companions trekked for 11 days before crossing paths with another person. While their discovery now seems fortuitous, the disappointed crew was actually looking for gold.
A trip to visit the falls can be a very complicated affair involving domestic flights, boats, appropriate weather for adequate water levels, and then several hours of hiking. Getting there may sound like an epic quest, but its hard to deny that the falls themselves are pretty epic as well. Jonathon Engels
The post The 20 Biggest Waterfalls in the World (By Continent) appeared first on Green Global Travel.
Read more: greenglobaltravel.com