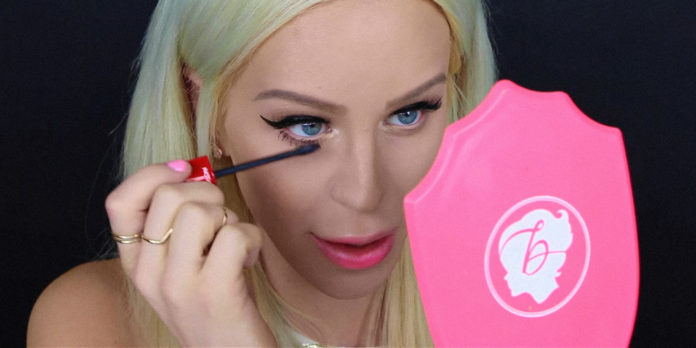 In the world ofYouTube mega-stars, a career based entirelyon successful contouring videos isn't far-fetched. But for 25-year-old Gigi Gorgeous, daily vlogs and simple makeup tutorialsled to a necessary shift inLGBTQvisibility on YouTube.
Gorgeous, formally known as Gigi Lazzarato, is one of YouTube's original beauty queens and a prominent LGBTQ youth ally with over 2 million (and counting) subscribers. While herchannel is a space for Gorgeous toexpress her feelings on everything fromCaitlyn Jennerandbullying tohow she met her girlfriend,herrecent documentary, This Is Everything: Gigi Gorgeousoffers an unfilteredvideo diary of her off-camera life.From selfie videos documenting every step of her transition to clips of difficult discussions with her family, This Is Everythingrevealedthe intimate inner workings of YouTube superstardom and gave Gorgeous a chance to tell her storywithoutperfect lighting.
Here are a few fascinatingfacts about the woman who needs no introduction.
12 little-known facts about Gigi Gorgeous
1) Gorgeous was once a nationally ranked diver
Screengrab via Gigi Gorgeous/YouTube
At 13, Gorgeousbecame a prominentCanadian National 3-Meter Diving Champion, laterqualifying for the Olympics at age 15. However, Gorgeous realized she wasn't happy and left the sport behind in her later teen years.
"My thoughts just had such a strong hold on me, I was thinking about heels and lipstick," Gorgeous said in This Is Everything. "It was just something that I had to explore."
With the advice of a friend in mind, Gorgeous devoted her free time to launching her YouTube channel, perfecting her makeup skills, and practicing walking in heels on the treadmill.
2) Gorgeous is a little superstitious
Screengrab via Gigi Gorgeous/YouTube
Gorgeous's childhood home had three floors with two set of staircases, each with13 steps. According to one of her YouTube videos, Gorgeous never stepped foot on the 13th step. She considered both the first and last steps the 13th, she explained.
3) Gorgeous' first video was an everyday makeup routine
At the beginning of her YouTube career, Gorgeous posted some of her first makeup tutorials on her channel, then titledGregory Gorgeous. Her first video, posted in 2008, featured a young Gorgeous applying makeup and perfecting a quintessential 2008 hair swoop.
Some of Gorgeous's other early videos were more detailed hair and makeup tutorials, as well as goofymusicvideos like "Only U" by Ashanti and a "Behind the Scenes of a Lady Gaga Music Video"she produced with a group of friends. Since then, Gorgeous has created aseven-figure empireand an annual salary of $1.3 million.
4) Gorgeouslost her mother to cancer in 2012
Screengrab via Gigi Gorgeous/YouTube
Gigi Gorgeous was 19-years-old when her mother died from brain cancer. In a 2016 interview with People, Lazzarato said her mother passed away beforeshewas able to tell her that she is transgender.
I never got to say it to her face, said Lazzarato in an interview with People. made me realize, Life is too short to not do what you want to do. Lets become the most authentic you that you can be.

READ MORE:
5) Gorgeous's father was there when she needed a helping hand
Screengrab via Gigi Gorgeous/YouTube
Throughout her plastic surgery procedures, Gorgeous's father, David Lazzarato, was adamant aboutremaining by her side. Gorgeous's fatheris prominently featured inThis Is Everything, helping his daughterrecuperate and recover during two of her surgeries (though Gorgeous assured him she would be fine on her own). That's what unconditional love is.
6) Gorgeous stepped out in weddingcouture for the first time after her transition
Screengrab via Gigi Gorgeous/YouTube
Gigi Gorgeousfirst appearance in front of family and close friends after her transition was in a wedding party forher fathers wedding. Itwas an important moment for her and those closest toher, she told her YouTube audience. She walked down the aislewith style and flawless makeup, of course.
7) Gorgeous collaboratedwith one of the Kardashians
Screengrab via Gigi Gorgeous/YouTube
In 2015, Gigi Gorgeous paired up with Kylie Jenner for a majorcollaboration video called "What's In My Mouth With Kylie Jenner." The pair collectedfoods they typically wouldn't eat (think pigs feet and strawberry yogurt) and fed them to each other with their eyes closed.
Per the rules of the challenge, there wasno peeking allowed, and whoeverwho ate the food had to guess what it was.Yum!
8) Gorgeous was once denied entry to Dubai for being transgender
In August of 2016, Gorgeous was detained for five hours in the Dubai International Airport.
Screengrab via gigigorgeous/Instagram
The beauty vlogger was detained by officials at the Dubai airport and separated from her passport. After she was cleared,the Dubai government issued a letter of apology to Gorgeous, citingan "error in the database" as the cause of the incident.
Gorgeous took to Instagram after she was released, saying her experiencewas further proof of "the need for change."

READ MORE:
9) Michelle Phan inspired Gorgeous to get on YouTube
Screengrab via YouTube
In an interview with MTV, Gorgeous said that she followed Michelle Phan on YouTube before she began vloggingand that Phan was "one of the first people" to get her career started.
10) Gorgeous is team pineapple on pizza
Screengrab via gigigorgeous/Instagram
Gorgeous has taken a stand in a highly contested debate byrevealing that herfavorite pizzais Hawaiian. In case you missed it, the (seemingly neverending) discussionof whether or not pineapple belongs on pizza is a hot debate on the Internet. Some prominent figuresdon't agree with the beauty vlogger's choice. Consider this more proof that Gorgeous has always been one to speak her mind, no matter who might disagree.
Editor's Note: This article is regularly updated for relevance.
Read more here: http://www.dailydot.com/