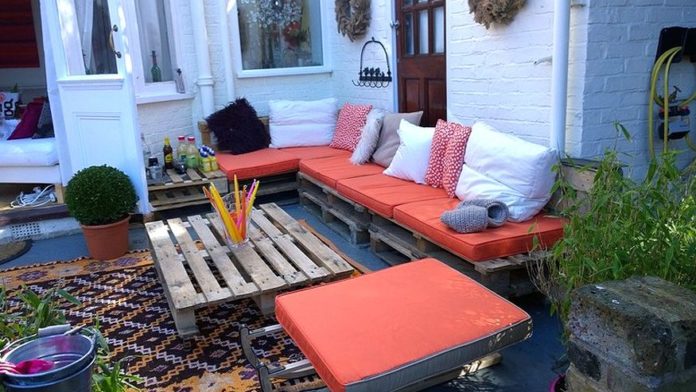 You can make just about any outdoor space into a lounge. Think carefully about seating and include comfy, inviting options, such as floor cushions, chaises or hammocks. Next, work in a few extra features like lush potted plants, outdoor rugs and handy tables to fully flesh out your alfresco room. Then sink back and relax, and enjoy the good weather while it lasts.
RELATED: 10 Lounge-Worthy Patios, Porches and Decks
Stay low. Simple floor cushions give a balcony or deck an informal vibe. This is a flexible option too, since the cushions can be moved around easily to create different seating configurations.
If other buildings look out on your outdoor space, sitting low to the floor may provide additional privacy.
Hang hammocks. A single hammock is a fun addition to the garden, but a series of them is even better. Hammocks are easy to take down and store during poor weather, and theyre particularly appealing to youngsters whose supple joints allow them to flop in and out with ease.
Go green. Create a green oasis in the heart of the city by laying fake grass in your outdoor space. Hard-wearing and practical, artificial turf brings the feeling of a lawn and some welcome green to an urban garden. Just add deck chairs and kick back.
Consider a corner. A corner sofa packs maximum seating into a compact living room, and the same is true for a small deck, patio or balcony. When outdoor lounging is a top priority but the footprint is small, tuck a free-standing sofa into a corner or build in some seating.
You may need to orient the seating away from the view, but creating a generous lounging space outdoors that works as an additional room should more than compensate for it.
Create activity areas. If space allows, carve out different zones for relaxing in your outside space. A place to gather with friends, a pocket for private rest or reading, and a small table and chairs for dining are welcome additions. Even a small space can be zoned to improve its functionality and appeal.
Use screens and plantings to provide privacy, and choose natural materials for the landscaping to give a soft, natural feel.
Upcycle pallets. Inexpensive and versatile, pallets can act as the building blocks of an outdoor living space. Top them with pillows and foam cushions to make a casual sofa, then use one as a coffee table and another as a side table, complete with drinks. Its a budget-friendly approach to creating a complete outdoor lounge area.
Celebrate the small stuff. Even if your patio or balcony is the size of a postage stamp, it can still function as a valuable outdoor chill-out zone. Rather than crowd it with lots of small furniture, which can make it feel cluttered and bitty, turn the entire area over to comfort. Allow a generous daybed or chaise longue to fill your patio, making clear that this space is dedicated to relaxation.
Relax into the night. Get the most from your outdoor space by ensuring that its still comfortable as the light fades and the temperature drops.
Blankets not only soften seats, but they also become warm shawls for anyone sitting outside late into the night. Include atmospheric lighting, such as candles in hurricane lamps or jam jars, or strings of outdoor lights.
Ditch regular chairs. This is a simple way to turn an outside space into a place to chill. Forget chairs and tables instead, choose seating that allows you to put up your feet. A free-standing hammock and two steamer-style lounge chairs create a relaxed mood. They can also be moved around, so you can follow the sun or change the view.
Plant it. Potted plants bring color and life to a balcony or patio, and this can be particularly welcome in an urban space. Use a handful of large plants or trees to bring height, structure and privacy to the area, rather than lots of small, low containers.
Read more here: http://www.foxnews.com/