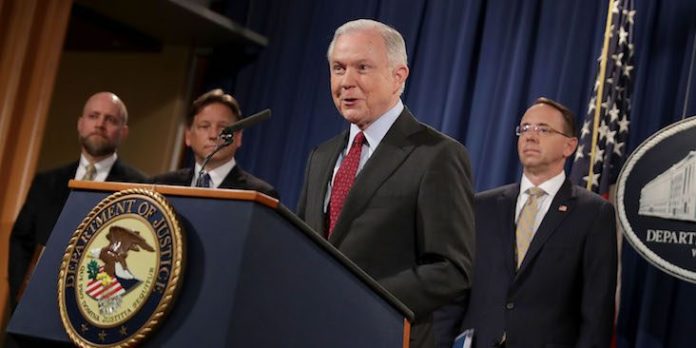 Here comesyet another dramatic change to civil rights policy, and this one is hitting the dorms. The Justice Department is reportedly preparing to redirect resources of its civil rights division in order to investigate and sue universities over affirmative actionin their admissions process, The New York Times reported on Tuesday evening. An internal memo obtained by the Times sought lawyers to work on the project.
UPDATE: Department of Justice Spokeswoman Sarah Isgur Flores replied to the report with a statement to Elite Daily, saying that reports were inaccurate and that the memo cited by the was in reference to one 2015 complaint regarding racial discriminationin admissions that had been left unresolved by the Obama administration. The statement read in part,
This Department of Justice has not received or issued any directive, memorandum, initiative, or policy related to university admissions in general. The Department of Justice is committed to protecting all Americans from all forms of illegal race-based discrimination.
EARLIER: The memo, which reportedly sought stafffor investigations and possible litigation related to intentional race-based discrimination in college and university admissions, seems to clearly be referring to affirmative action admissions policies, in which a candidate's race is considered as a factor. These policies are intended to bring more diversity to college campuses, and have been upheld as a valid concern by the Supreme Court.
Crucially, the memo seems to suggest that the project will be run by the political appointees at the division, and not the Educational Opportunities Section, which usually handles issues involving schools and universities. The Department of Justice did not immediately respond to Elite Daily's request for comment.
The Trump administration has already been heavily criticized for moves regarding the LGBT+ community and racial minorities.
The news of the memo is only the latest in a series of troubling steps.
Last week, President Donald Trump announced, via Twitter, a new policy banning transgender individuals from serving in the military, which left many aghast. The administration is also challenging voting rights claims of voter fraud in the 2016 election are being used as justification to gather detailed data on voters, and possibly purge voter registration lists, according to . And on July 28, President Trump made a speech to police officersin New York which seemed to condone police brutality.
For many, it's what they feared from the appointment of Jeff Sessions as the Justice Department's leader.
Current Attorney General Sessions has been accused of racism for years, and was even denied a federal judge position in 1986 based on testimony about his use of racial slurs and jokes about the Ku Klux Klan, per The Washington Post.
Affirmative action was upheld by the Supreme Court as recently as last year.
It's not like no one has looked closely at affirmative action before.
In June of 2016, the Supreme Court ruled 4-3 to uphold a race-conscious admissions program in the case Fisher v. University of Texas. A prospective student, Abigail Fisher, had accused the school of denying her admissions based on her race.
In the majority decision, quoted by , Justice Anthony Kennedy wrote,
Considerable deference is owed to a university in defining those intangible characteristics, like student body diversity, that are central to its identity and educational mission.
But the fact that the case made it to the Supreme Court means that the issue is still controversial enough to be debated at the highest level in the land.
The newJustice Department policy could make it even more so.
Read more here: http://www.elitedaily.com