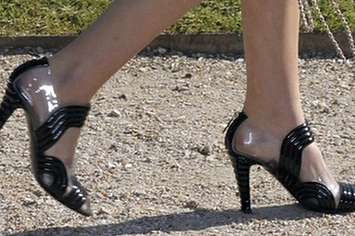 I've watched many a fashion show worrying about two things on the runways: boniness and shoes. If the latter fail and a model takes a tumble, they've got a long way down being so tall; and then of course they don't have the fleshy padding most of us do to protect our bones in those situations. In fact, runway shoes may be the industry's top source of psychological turmoil, tears, and bloodshed. Here are eight pieces of evidence that suggests as much:
1.

Model Meghan Collison said her heels from the Chanel resort show were so damaging to her feet, she couldn't wear MOCCASINS for a week.

Pascal Le Segretain / Getty Images

"They destroyed the back of my feet," Collison (pictured above) said of the shoes (pictured below). "I was bleeding afterward. Hard plastic with no socks on? Not fun! Especially because we had rehearsal three times. I walked around for the next week with the backs of my moccasins folded down to let them heal! At least the shoes looked amazing." Yeah, screw health — plastic shoes looking good is what truly matters here.
PIERRE VERDY / Getty Images
2.

Top models refused to walk Alexander McQueen's spring 2010 show because the "Armadillo shoes" were too scary-looking.

No one fell in the show, but Frockwriter reported that Abbey Lee Kershaw, Sasha Pivovarova, and Natasha Poly all refused to do it because these 12-inch "shoes" (I like to call them "hoofs") were so scary-looking.
3.

Fashion's fairy prince Kanye West, who totally hearts models, doesn't care whether or not they can walk in his shoes.

After sitting front-row at Fashion Week for years and undoubtedly witnessing many dangerous shoe situations, he went ahead and put the models he calls his friends (like Karlie Kloss and Jourdan Dunn, pictured above) in scary shoes. Dunn, even tweeted, "[Kanye's] shoes are sexy as fuck but you can't walk in them!"
The offending Kanye West shoes, as seen on Kim Kardashian's feet.
4.

Models are rumored to put sharp objects in their competitors' shoes.

Male model Lyle Lodwick, explaining how female models are much more competitive with each other than the dudes, told the Daily Beast, "I've heard horror stories of girls putting needles in a girl's shoes so when she's on the runway she'll fall over." Ladies, WTF?
5.

Gisele once refused to walk a top designer's show unless he made flats for her to wear.

Explaining why on earth Balenciaga would do so bold and unexpected a thing as to include flats in the spring 2011 show, designer Nicolas Ghesquiere explained to Women's Wear Daily, "The idea was to have this crazy casting with Gisele [Bündchen] and Amber Valletta and Carolyn [Murphy], and they said no for high heels. They were not used to walking with heels anymore. Gisele was worried; she would not walk with my heels." If the world's best model refuses to wear your heels, you know you have a serious safety issue on your hands.
6.

Models had panic attacks and cried backstage at a Prada show once, they were so afraid of falling on the runway.

And many of them did, anyway! The show is probably one of the most famous in recent memory for model tumbles, in terms of the sheer number and intensity of the falls. The Telegraph reported at the time that one model said backstage, "I was having a panic attack, my hands were shaking. The heels were so high. Some of the girls were crying backstage they were so scared." Watch the carnage in the video.
7.

After a particularly nasty fall, Abbey Lee Kershaw sustained a bad knee injury.

Kershaw feel in a Rodarte show, tore a ligament in her knee, and then had to take the rest of the season off to have surgery to fix it. (Watch the fall in the video — look to the right to catch it.) She told an Australian television show, "Hopefully [the shoes are] going to come back down soon, because health and safety regulations have to come into play at some point." Again: health and safety regulations. These are shoes, guys. Shoes.
8.

Model Lindsey Wixson sprained her ankle walking Versace's runway.
The then-17 year old tweeted that this fall caused her ankle sprain. Can you imagine if she took that blond model down in the process? Donatella might have had a few injuries on her hands. And really, it's only a matter of time before an especially perilous shoe causes a model to fall and take out a front row guest. Maybe then, the fashion industry will really consider fixing this problem.
Read more: http://buzzfeed.com/amyodell/8-pieces-of-evidence-that-shoes-are-the-most-dange