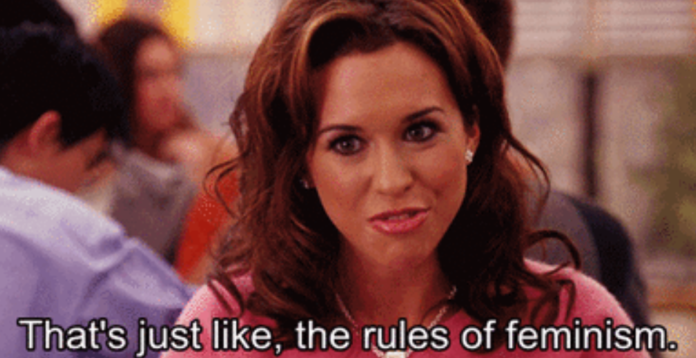 The Urban Dictionary
White Feminism is nowa popular term owing to the abundance of white celebs taking advantage of the movement to further their own interestand career, usually without extending female solidarity or tackling relevant social issues such as trans-womens rights, Hollywoods whitewashing, invisibility of the disabled, police brutality, cultural appropriation, or institutional racism.
While this type of feminism raises a certain level of awareness to SOME feminist issues, it is harmful in that it paints a negative picture of the overall movement and thusgives dumb, ignorant boys an excuse to create sexist memes so they can call anyone who gets offended as Do not misunderstand me, I do not blame White Feminism as the sole reason why people, especially on the internet, immediately reject the importance and essence of feminism (sad online gnomes who are super bored with their lives and are desperate to be edgy should be held accountable for their own short-sightedness). My point is I would be very unglad if young women were led to believe by their idols that womens rights, solidarity, and empowerment are purely about #squadgoals, #actlikeaman, and #fuckdiets.
Rebecca Vorick, Feminism 101: What Is White Feminism?
Whether as individuals or celebrities, I dont hate the women that I will listbelow, but I do loathe their rejection of intersectional feminism, their habit of whining towards critics, and their collective willfulinabilityto acknowledge andlearn from their white privileged ways.
So here I present to you the role models for White Feminism and why they hella suck:
The Holy Trinity
1. Amy Schumer
The first time I discovered Amy was from her movie after it got rave reviews from critics despite her character being obnoxiousas hell. Hollywood was abuzz with this funny, feminist, body-positive woman. Then I came across this article on her racist antics specifically about her controversial video parody of Beyoncs pro-black . I googled more and found out shes said a ton of racially insensitive things such as that time she joked Mexican men are rapists;or when she was bummed because no lesbians hit on her at a lesbian bar (was she thinking or what?); or when she implied men of color cat-call women more than white men do.
– If your career is built at the expense of minorities whom you mock and dehumanize, then your comedy is probably lazy, gross, and stale tbh. To quote Nathan Robinson but Amys jokes, as the Guardian explains,
If people pointout repeatedly you are racist and you can only respond along the lines of MAYBE you should self-reflectand make an effort to see WHY youre constantly criticized for your tasteless words instead of issuing another hollow Amys PR apologies, like many forced White Feminist apologies, count for nothing until she stops making feebleminded jokes that cater exclusively to a white American audience. Contrary to what Amy has claimed, she doesnt take responsibility for her words and doesnt use criticism against her in order to evolve as an artist and person. Instead she firmly stands her ground, proceeds to produce the same tired material, and shouts
TLDR, Amy, making and being slightly chubby does not a feminist make. No volume of laughter can drown out the fact youre a racist.
2. Lena Dunham
Lena, Lena, Lena. Oh, god, where do I begin?
Rebecca Carroll
If White Feminism were a video game, Lena Dunham would be that aggravating, seemingly unbeatable self-entitled boss villain at the end of the game that suddenly comes alive after you defeat it, cackling at you as it escapes into Video Game Part 2. Without her, the other mini-bosses might not have been enabled. She is the head of the White Feminist hydra whose foot-in-the-mouth diseasereaches far and wide.
Read more here: http://thoughtcatalog.com/