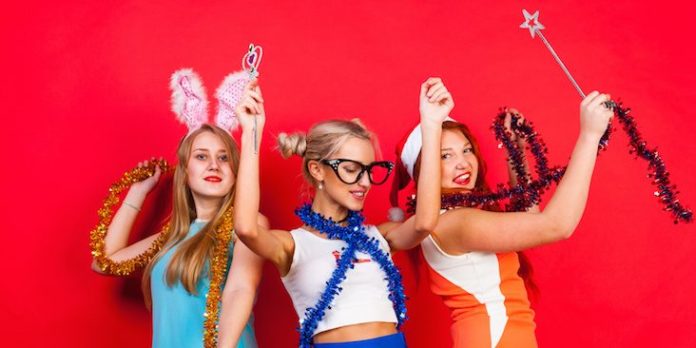 For many university students across the nation, the idea of Greek life on a college campus manifests images of memorable socials, endless laughter, and a lifetime of sisterhood. As freshmen find out every year, recruitment is a long process. But at the same time, rushing for sororities is a social and fun experience that you're likely to remember for the rest of your life, so you know you'll do your best to make next year's events just as memorable. Having great sorority party themes for your socials is very important, so choose carefully.
For the ladies who have already gone through the recruitment process, organizing the events for this year's socials can be a challenge. Coming up with an original idea is hard enough, but finding ways to involve your current members and members of other houses can require quite a lot of planning on your part. You'll want your theme to be a hit, of course, but the ultimate goal is that everyone has a great time.
If you need a bit of inspiration for your socials, hitting up Pinterest for a variety of unique and fun themes never disappoints. You can incorporate your theme into the food you serve, the clothes you wear, the decorations you put up, and the activities you do. As long as everyone is having a good time and getting to know each other, you've done your job. If you need a jump start on your planning, here are 10 ideas for a rocking sorority social.
1. Daisy Dukes And Cowboy Boots
Because what's college without theme parties? #DaisyDukesNCowboyBoots pic.twitter.com/GRtzgnFtoq

— Bri (@BriannaJBbaby) February 26, 2016
A western theme is classic, but can be given your own special twist. Have your guests show up in flannels, boots, and denim so they'll fit in with your cowboy and cowgirl decor. This theme is easy to incorporate into activities, snacks, and favors.
2. Toga Party
Toga Parties: Like any other tradition college WASPs bask in the glory of this old school Greek theme! #ThemesWASPsLove pic.twitter.com/P09nnpz0

— Things WASPs Love… (@ThingsWASPsLove) April 25, 2012
Toga parties are a fun college tradition that you don't want to miss out on. Give your members and pledges a chance to experience this once-in-a-lifetime party by throwing your own. You can have a DIY day when you make all of the decor, too.
3. Denim
My sister is the best@ShwetaRohira happiest birthday in advance to you Loved your party theme: Jeans!! pic.twitter.com/dm6AooNwf1

— Elli AvrRam (@ElliAvrRam) September 17, 2017
Practically everybody owns a pair of jeans at the very least, so everyone will have something to wear to your denim-themed social. A quick trip to a fabric store is all you really need to get the decor for your event, so get to it. You can keep things casual with this theme, which is a big plus.
4. Back To The 90s
90's theme party. Happy bday, Joey! pic.twitter.com/jHrZP73g1B

— Cheryl Deni (@cherylxdeni) September 9, 2017
If you want to take a trip back in time, channel your inner 90s kid for your next social. You can raid your closet for the perfect outfit. Put someone in charge of a jammin' playlist of the hit songs of the 90s, and the ambiance will be complete.
5. Pool Party
Whose idea was it to blow up all the floaties without a pump? SO MUCH FUN last night at Jen's 90s Hip Hop Pool Party theme ride! pic.twitter.com/GYmDSNv39F

— Tour Indoor Cycling (@tourindoorcycle) August 25, 2017
Whether or not you have a pool available to you, you can have a rocking pool party. Grab some inflatable rafts and your favorite beach towels, and you're already halfway there. A summer party can be fun any time of year.
6. School Or Sorority Colors
College football is back and you know where the party's at#ATL #fearthespear #rolltide pic.twitter.com/8KjW7QUoZD

— Big Sky Buckhead (@bigskybuckhead) September 1, 2017
If you need a simple theme for your next event, just follow the color scheme of your school or sorority house. Buying party essentials in solid colors isn't difficult, and putting together an outfit should be easy. It's a simple theme for your guests to follow, too, which will be much appreciated.
7.
My Harry Potter party was pretty lit pic.twitter.com/GWNzNwYDdm

— chlo chlo (@ssjChloe) September 18, 2017
Technically, you can turn any fandom into a super fun party theme, but who doesn't love ? You can dress in your favorite house colors and name your drinks after spells. There are endless possibilities with a theme as magical as this, so let yourselves get creative.
8. Night At The Museum
Lastnight! #fratparty #theme #nightatthemuseum w/ my boos @creolexbaby @esmyneveen_ @jessieallen23 @CHANiCEDEV0NNE pic.twitter.com/SbO3JyiEIw

— Jade Pinkett ✞ (@JadieS00korean) March 3, 2013
This theme is unique enough that your party will stand out amongst the masses, but your guests won't be too challenged when they're trying to find a costume. Anything in history is fair game at this mixer, so go wild. Unusual outfits are a great reason to break the ice, too, so your guests will be sure to mingle.
9. Neon
If your sorority would luv a bright bid day theme ~ get INSPIRED by the A+ NEON sugar from @KDEpsilon! WAY TO GLOW! https://t.co/OMewlYV8Ou pic.twitter.com/TbzBBREuUa

— sorority sugar (@sororitysugar) March 1, 2017
If you're looking for something a little brighter, try a neon theme. The extreme colors will look super bright during the day, and super cool at night under black lights. You can use glow in the dark neon paint for some themed activities that are sure to bring people together.
10. Pajama Party
when you tell sorority girls pajama theme.. pic.twitter.com/v1xhFHSHkI

— kelpcake (@alisabaker13) October 17, 2016
When you're in the mood to relax with your main girls, a pajama theme is the way to go. Everyone has something to wear, and the popcorn will be ready to go. It's a win-win.
Read more here: http://www.elitedaily.com