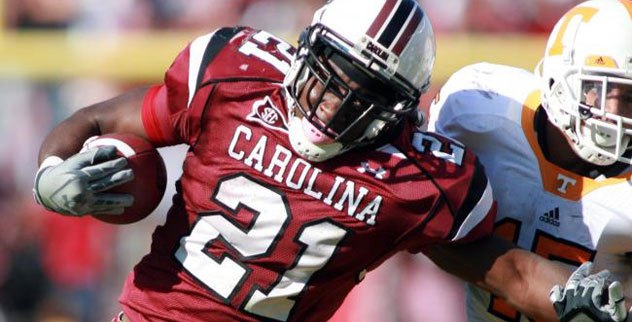 In professional sports, no amateur draft is bigger and more covered than the annual NFL draft. Composed of seven rounds and pick to pick coverage, the draft is big business for NFL teams, as one good draft can completely change the fortunes of the franchise. However, some picks do not work out, and some are legendarily horrible. The ten worst picks are compiled here.
10. Rick Mirer (Notre Dame, QB – 1993 First Round, 2nd Pick Overall, Seattle Seahawks)
While at Notre Dame, Rick Mirer played to an impressive 19-7-1 record. In 1992, Mirer lead the Irish to a victory over Florida in the Sugar Bowl and was named co-MVP with teammate Jerome Bettis. In a manner that would foreshadow the Manning-Leaf debate five years later, debate raged over whether Drew Bledsoe or Rick Mirer was the superior prospect. In the end, Bledsoe went first to the New England Patriots, and Mirer was drafted number two overall to the Seattle Seahawks. After a fine rookie season, finishing fifth in the AFC in passing, Mirer began a series of disappointing seasons. In 1995, he threw only 13 touchdowns compared to 20 interceptions, and the following season he threw 5 touchdowns and 12 interceptions. He continued his career as a backup quarterback, but nothing more.
9. Tim Couch (University of Kentucky, QB – 1999 First Round, 1st Pick Overall, Cleveland Browns)
Tim Couch was a high school phenomenon, setting national records for completions, passing yards, touchdowns, and passing accuracy. Couch was heralded as the best quarterback prospect since John Elway nearly 20 years earlier. He played college for Kentucky, where he continued his record setting ways while making big play after big play. Like so many of draft busts, he entered the draft early, and was drafted number one overall to the expansion Cleveland Browns. Couch struggled throughout his career, despite a stat line that includes 64 touchdowns in 62 games. After being replaced and cut in Cleveland, Couch tried to become the heir to Brett Favre in Green Bay, but this led to nothing. Recently it has been reported that Couch has been using HGH, a substance banned by the NFL.
8. Curtis Enis (Penn State, RB – 1998 First Round, 5th Pick Overall, Chicago Bears)
As the starting running back for Penn State, Curtis Enis possessed the strength of a power back while possessing the finesse of a speed back. Enis was considered to be the top running back in the 1998 draft. He played three-years and 34 games in the NFL with the Chicago Bears. Enis had one decent season, during which he played 15 games, rushed for 287 carries, gained 916 yards, and scored five touchdowns. It was reported that Enis turned down a six year deal that would have earned him $18 million dollars as a rookie instead to sign a three year deal where he earned $5.5 million dollars. The thinking was that Enis would prove his worth for a bigger deal following the 3 years. However, by the end of year three he was out of the NFL.
7. Jeff George (Illinois, QB – 1990 First Round, 1st Pick Overall, Indianapolis Colts)
Controversy followed Jeff George throughout his college and professional career. After being recruited by Purdue, George transferred because the coach, Leon Burtnett, was fired. George went to the University of Miami (Fl.), but backed out when coach Jimmy Johnson refused to guarantee George the starting job. George then went to the University of Illinois where he played for two years. After deciding to leave early, George was the number one overall pick to his hometown team, the Indianapolis Colts. He was awarded what was at the time the richest rookie contract in NFL history. But what seemed like a dream job was not to be, and after four years of arguing with the coach and dueling with the fans, he was traded to the Atlanta Falcons. George enjoyed moderate success with the Falcons, but again, conflict brewed between him and the head coach, where soon he was shipped to the Oakland Raiders. George had his best years with the Raiders, but controversy again bloomed in the form of George announcing in 1998 that he was done for the year after a groin injury, which was unknown to the team. George had better numbers than most of the players on this list, but his history of feuding and inability to lead his team to success earn him the label of bust.
6. Ki-Jana Carter (Penn State, RB – 1995 First Round, 1st Pick Overall, Cincinnati Bengals)
Many disappointing running backs have come out of the Penn State football program, including list entry Curtis Enis. However, none have had as notorious a career as Ki-Jana Carter, who was the top overall pick in the 1995 NFL draft. Carter is noted as being one of the biggest disappointing number one overall picks. A standout player in college, Carter ran for 227 and 5 touchdowns in a single game against Michigan State. Despite leaving college early, Carter is still in the top ten among Penn State running backs, finishing his career with 2829 yards rushing on 341 attempts and scoring 38 touchdowns. On his first carry in his first preseason NFL game, Carter tore his anterior cruciate ligament. He never fully regained his power or speed, and never became more than a competent backup.
5. Lawrence Phillips (Nebraska, RB – 1996 First Round, 6th Pick Overall, St. Louis Rams)
At Nebraska, Lawrence Phillips showed both power and speed and the ability to be a big playmaker at running back. Phillips Achilles heel, however, was trouble with the law. As a professional, he proved to be an underperformer and a distraction for his team. Phillips consistently avoided team meanings, and was arrested several times for assault and domestic abuse. Phillips only played four seasons in the NFL with a pedestrian 41 yards per game average. Since leaving the NFL, he has been convicted of seven counts of assault with a deadly weapon.
4. Akili Smith (Oregon, QB – 1999 First Round, 3rd Pick Overall, Cincinnati Bengals)
Akili Smith stormed up draft boards in 1999 due to a superb senior season at Oregon and a good pre-draft workout. Many considered his upside to top that of any other quarterback in the draft. The pre-draft hype may have been the undoing of Smith, who could never live up to his pre-draft status. As a Cincinnati Bengal, he threw for only 5 touchdowns and 13 interceptions. After being cut by the Bengals in 2002, Smith tried to catch on with the Green Bay Packers, but Smith was cut from the roster before the season. Recently, he has been playing Canadian football.
3. Art Schlichter (Ohio State, QB – 1982 First Round, 4th Pick Overall, Baltimore Colts)
A standout college player, Art Schlichter nearly led the Buckeyes to a national title his final season. Many anticipated that Schlichter bring his game to the next level when he reached the NFL. Instead, he brought a penchant for gambling. The league suspended him in 1983 when it was revealed that Schlichter had accumulated a massive gambling debt. By 1985, the Colts had released him. Schlichter has over 20 felonies on his record, as well as the dubious honor of being in prison over 30 times.
2. Tony Mandarich (Michigan State, OT – 1989 First Round, 2nd Pick Overall, Green Bay Packers)
Before there was Ryan Leaf, there was Tony Mandarich, who wore the label of the ultimate NFL draft bust. He's still in the top 2. After a fantastic senior year, where he was named a first-team All-American, Big Ten Lineman of the Year and Outland Award Finalist, he was being praised as the best lineman prospect to come out in recent memory. After being drafted by the Green Bay Packers, he held out and did not sign a contract until just before the beginning of the regular season. He inked a four-year deal and played on special teams his first season. Noted for having a bad attitude and being a suspected steroid user, the Packers cut him after his third season. Mandarich played for three more seasons with the Indianapolis Colts, but did not perform anything beyond mediocre. What makes the drafting of Mandarich all the more painful was the next few picks in the same draft, Barry Sanders, Derrick Thomas, and Deion Sanders, all of whom had spectacular professional careers.
1. Ryan Leaf (Washington State, QB – 1998 First Round, 2nd Pick Overall, San Diego Chargers)
In 1998 Ryan Leaf looked like the real deal. So much so that many teams argued that he should be the top pick over Tennessee standout, Peyton Manning. Leaf was a finalist for the Heisman Trophy his final year at Washington State, and was a first team All-American and PAC-10 offensive player of the year. Instead of returning for his senior season, Leaf entered the draft. While the Indianapolis Colts selected Peyton Manning with the top pick, the San Diego Chargers traded up from the 3rd Pick so that they could guarantee themselves Leaf. For the 2nd pick, the Chargers traded their first and second round pick, along with two players. Leaf signed a 4-year deal that gave him $31.25 millions with $11.25 of that guaranteed signing bonus. Once arriving, Leaf's legendary cockiness alienated him from the rest of his teammates. He only played two years with the Chargers, for which he threw only 13 touchdowns and an exorbitant 33 interceptions.
Contributor: Jason Hirschhorn
Read more: http://listverse.com/2007/09/03/the-top-10-worst-nfl-draft-picks/