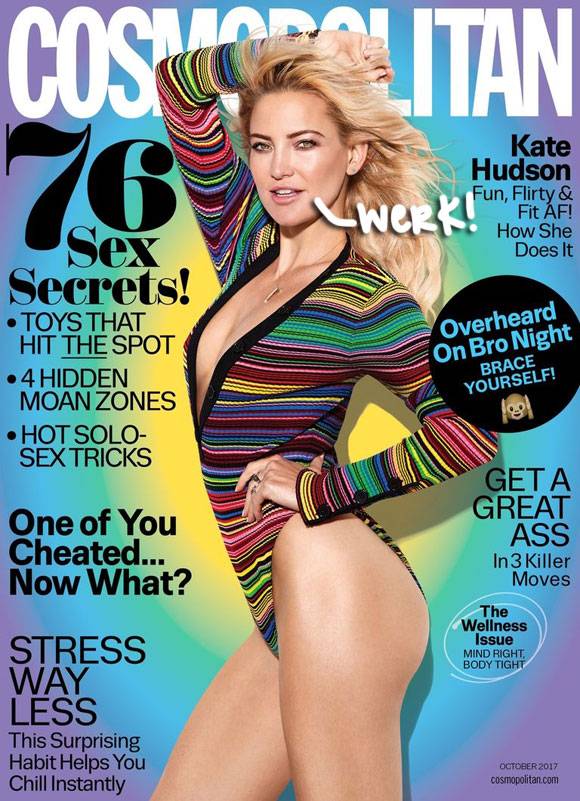 Ow ow!
Kate Hudson is glowing on the cover of Cosmo's October issue — which was clearly shot before the actress shaved off her signature blonde locks!
Speaking of the huge transformation, when answering the outlet's questions, the 38-year-old had this to say about her post-sweat-session beauty hacks:
"Shaving your head. Cuts down on time spent post-sweat."
Ha! That's definitely one way…
Related: Goldie Hawn Weighs In On Kate's Fling With Nick Jonas!
Ch-ch-check out other highlights from the interview (below)!
On who the momma-of-two calls when she's on the verge of a meltdown:
"Oliver Hudson (my brother) … to make me laugh."
The best advice her bro gives her is:
"Nobody cares! 'There's about 7 plus billion people in the world who don't give a shit.'"
When asked what she thinks the worst thing a party guest could do is, Kate responded:
"The worst thing a party guest could do is do a number two in the guest bathroom. Do not poop in the guest bathroom!"
Additionally, Matthew McConaughey took the honor for which former costar she'd want to spend the weekend with in Vegas, and she'd choose Liv Tyler as her roommate.
Fun!
Ch-ch-check out the full feature on stands September 5!
[Image via Cosmopolitan.]
Read more here: http://perezhilton.com/