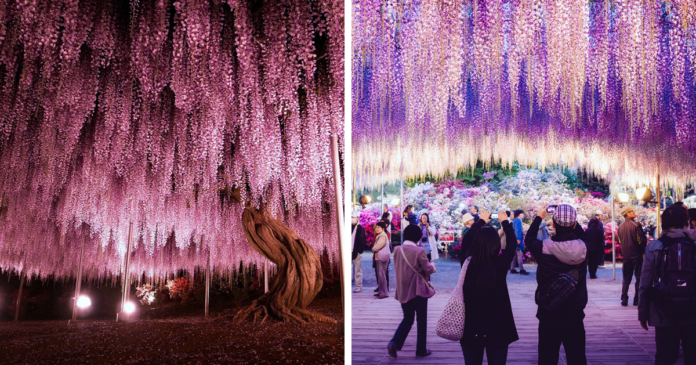 Spring is the most magical time of year to be in Japan. It's not only because of the country's world-famous cherry-red flowers, but also the annual Great Wisteria Festival, an enchanting presentation that's not to be missed.
---
Show Full Text div >
Ashikaga Flower Park in Japan's Tochigi prefecture, only 2 hours from Tokyo Station by teach, is the host of the celebration, and boasts over 350 wisteria trees that fill the park with dazzling colourings year after year. Visitors can also walk through an 80 metre-long tunnel are covered under unique white wisteria buds. The wisteria floribunda tree is native to Japan, and some of the trees in Ashikaga are more than 150 years old, attaining them a landmark of Japanese natural heritage.
The Great Wisteria Festival of 2017 is set to start on April 15, and will last until late May. Ashikaga Flower Park was previously listed as one of CNN's "dream destinations for 2014, " with one travel writer remarking that the wisteria trees looked "nearly identical to Avatar 's spiritual Tree of Souls." If you can't afford inter-dimensional travel, then a trip-up to Tochigi just might do the trick.
Read more here: http :// www.boredpanda.com /~ ATAGEND