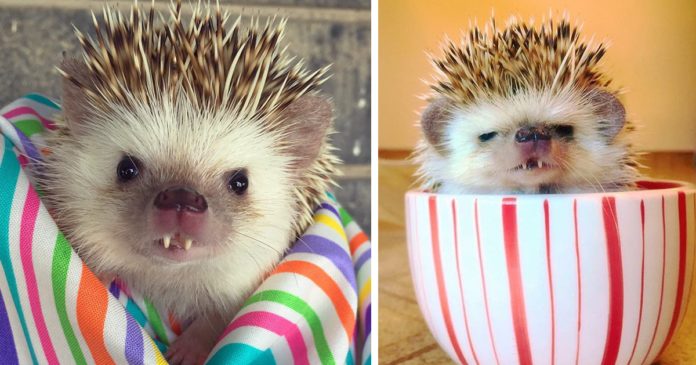 You won't see him on the red carpet or accepting an award at the Oscars, but in the world of Instagram, Sir Hodge Huffington the Cricket Slayer is a very big deal. The three-year-old African pygmy hedgehog, who answers to "Huff," was rescued by student Carolyn Parker of Utah after being mistreated by his former owner. Smitten by his adorable little face and unusual "vampire" fangs, Carolyn decided to make her pet an Instagram account and share his photos with the world.
As she told Bored Panda, "A lot of people in Utah struggle with seasonal depression – including myself. I started the account because I wanted to share something that made me happy with other people. Huff comes off as being grumpy and 'huffy,' but he is really lovable and cuddly on the inside. I think that's why there is such a large fan base for hedgehogs … because a lot of people can relate."
Judging by Huff's 18,000 followers, Carolyn's onto something! If you are feeling inspired to adopt your own hedgehog, however, it's important to do some research first. While they are cute and can be quite affectionate, some U.S. states and Canadian municipalities have passed laws that make it illegal to own a hedgehog, due to their tendency to carry foot and mouth disease. And of course, from time to time, their quills will poke you! Hedgehog owners need to have a thick skin, literally and figuratively, as most are naturally shy, nervous, and nocturnal.
Huff, on the other hand, seems to enjoy the limelight. Maybe it's the wax worms that Carolyn feeds him after each photo shoot or perhaps he simply knows that he's a photogenic hedgehog, but, either way, the photos that made Huff famous are sure to leave a big smile on your face.
Meet 3-year-old Huff, proud owner of the most adorable fangs on Instagram.
Just a few days ago he had 12,000 followers, but, now that his story is going viral, he's up to a whopping 18,000!
Although he goes by "Huff," his full name is "Sir Hodge Huffington the Cricket Slayer." Along with crickets and other insects, hedgehogs enjoy fruits and vegetables as part of a balanced diet.
Like all hedgehogs, he is lactose intolerant, and stays away from milk, cheese, and other dairy products. After all, we wouldn't want this cute little guy to get a tummy ache!
His owner, Carolyn, has honed her skills as a photographer with adorable scenes like this one.
Huff is a happy-go-lucky hedgehog now, but his life hasn't always been so easy.
Sadly, he was mistreated and eventually abandoned by a former owner.
That all changed when Carolyn fell in love with his personable nature and vampire fangs.
Now, Huff lives a life of luxury, admired not only by his owner, but by thousands of fans around the world.
Whether he is standing guard over the garden …
… or relaxing in the middle of a heart made of buttons …
Huff the hedgehog is simply irresistible! Who would have thought that an animal covered with quills and sporting fans could be so sweet and lovable?
Don't forget to SHARE these adorable photos with your friends and family!
H/T: Bored Panda | huffthehedgehog
Read more here: http://www.wimp.com/