It's remarkably easy to blow your head off using some software and a creative mind. Here are some examples of what can be done using some video editing programs like adobe after effects and premier pro..
We all hate the winter so why not join many of our mammal cousins and go to sleep in a dark hole until it warms up…
photo credit: LunaDiRimmel
As we don't have the instinct or knowledge to know when we should go to sleep here is a list of signs to look out for to know that the time has come:
1. The Squirrels are frantic
When the squirrels are getting ready for the big sleep they literally go nuts…. frantically running and burrying and hiding from us big giants. They need to get all theri nuts burried before they go for the winter
2. You are getting fat
photo credit: themissiah
A summer of BBQ's and Beer could be put down to you just having a good time. But it's a great indicator that your body is getting itself ready for a winter of very little food. If you can't see your privates, it's probably the right time.
3. There is no more green
I don't mean you have run out of cash…. although that may be a good time to sleep. I mean that the trees are all hues of brown and they green leaves are no where to be seen.
4. It's dark when you get to the pub
It's just not fair that you finish work, run home and take a shower. Then rush to the pub to meet some friends and it's pitch black!! We should not have to be awake through such dark days.
5. Walmart is selling Christmas Products
There is nothing more depressing than seeing the tack that Walmart start filling their shelfs with early in the Autumn… take the hint and prepare for sleep
6. You are getting Halloween Party Invites
Halloween can be great fun but imagine how much better it would be to just wake up when all the wet and cold is over. The day that first invite is pushed your way is the day you know you can safely get down to hibernating.
Let us know if you can think of any other indicators!
If you're a guy, you already know the unwritten rules of proper etiquette while in a public restroom. I mean, I don't even need to explain it; it should be in your blood. But just incase you forget or if you're a female and you've never known about this, here is a list of male bathroom rules – the proper etiquette.
1. Do not speak to anyone you don't know, matter of fact, avoid talking in general! The bathroom isn't a place to chit chat, it's a place to handle your business, wash your hands and get out. Stay mute when you're in the bathroom and the second you get out, then you can talk once again.
2. Avoid making eye contact. There's no point in looking directly into people's eyes in the bathroom. That sends out the wrong vibe and could possibly get you punched. Matter of fact, try not to look at anyone in general (no body parts, no eye contact, just don't look).
3. Always have an empty urinal between you and the next closest guy. If there are 5 urinals, you never, NEVER go to the adjacent one, you skip one. For instance, you go to urinal 1, skip 2, go to urinal 3, skip 4, and go to urinal 5. If 1, 3 and 5 are taken, you then proceed to the nearest open stall. And if those are taken, you come back.
4. When using the urinal, keep your eyes forward or focused on your own business. There is no reason or excuse for trying to look at someone else or someone else's business. That's usually an open invitation of getting punched.
5. Flush your business! How many times do we walk into a stall and see someone else's masterpiece just sitting there? Nope, we don't flush it either. We simply both to the next available stall.
6. Do not stay in front of the mirror for too long. Unless you have something in your teeth you do not need to stay looking at yourself. You're not putting on makeup and you do not want to stay in the bathroom longer than needed.

7. Avoid taking a number two. Unless you just ate a bowl of chili from Taco Bell, there is no reason you can't wait until you get home.
8. Keep unnecessary noises to a minimum. If you use the bathroom, there is no reason at all why you need to make groaning, grunting, sighing, etc noises. Seriously, that's just disturbing.
9. Wash your hands! I don't care if you just do a quick rise but if you just peed, you probably leaked on yourself. And if you took a number two, well, that's just gross.
10. Absolutely no touching! No patting, no handshakes, no rubbing, no touching! Only time you need to touch someone is if they break any of these rules and you need to give them a good slap in the face.
Well, those are the male bathroom etiquettes. Hey, I didn't make them up, it's an unwritten rule! And I also included a funny male bathroom rules Youtube video for those you guys (or girls) that need a visual.
1. Cooliris
Coolirish allows you to browse the latest news in multimedia format, kind of like an iphone scrolling / carousal thing. You can search youtube for videos, play them through Cooliris' funky interface and then go directly to the website. If you have some time to kill or you just like cool stuff, this add on is for you

There's even a demo here.

2. Colorful Tabs
Tabbed browsing is nothing new but it can sometimes be hard to differentiate between all the tabs you have open as they are all the same color and look the same from a distance. Well, thanks to Colorful Tabs, all of you tabs will now have their own unique color. A very cool add on indeed.
3. Fast Dial
Fast Dial is a bookmark add on which acts as a 'speed dial' on Firefox. As the name might suggest, you can add you favourite sites to Fast Dial and it'll save them for you along with a url and a thumbnail. To access your Fast Dial sites, you click a little icon on your toolbar and all of your Fast Dial sites will appear. A much better and cooler way of bookmarking

4. Firebug
Did you ever want to edit html and CSS live on a site and see what difference it makes to the appearance? For example, did you ever want to know what a black background looks like on google? Well with firebug, you can do all of that and more. It is the ultimate designer / devlopers tool and a MUST HAVE add on for designers, developers and code monkeys.
5. Video DownloaderHelper
Ever wanted to download videos from youtube or metacafe or any streaming video sites? Sure you have. This nifty little add on allows you to do that with the click of a button. You can also convert between formats and even download pictures if you want from any site. Ingenius

Install Video DownloadHelper Now!
I have been madly busy all day. Looking back on today I have not been very good with my time. Distractions have been getting in the way and there was plenty of things I could have done to streamline my day.
So I thought it would be great to finish the day with some simple tips that I usually find help to optimize my time and help me get the best out of my time online.
1. Close All Instant Messengers
If you are limited to time then it's important that you read all your email and make sure you are able to et to all the duties and tasks you have ahead of you. So make your self invisible on gmail, don't load up msn and just resist talking about how much beer you drank on the weekend with an online buddy!
2. Write a list the night before
If you can write a list before shutting down of an evening and then go over it before even turning on your computer your mind will be going in the right direction. I like writing my lists down on paper as it allows me o easily make notes and change things around.
3. Save non work related web pages for the weekend
Store all the cool and funny non work related emails in a text page when you see or receive them. 101 pictures of break dancing cats may seem like something you just have to look at but really….. it can wait!!
4. Ask for clearer instructions
I often start jobs or tasks on wishy washy instructions. You spend a whole bunch of time getting the initial task done only for your boss or the client to tell you that wasn't what they meant. If an email or memo isn't clear… ask for clarification…. this is a tip I NEED to act on myself.
5. Take frequent breaks
I find if I get stressed I start making mistakes. Make sure you take your screen breaks. You may feel like you are working less time but chances are you will get more work done.
6. Get around procrastination by doing boring jobs first
Plan your day so you do all the boring jobs in the morning. If you can plug yourself into your iPod and just work away then do that. Get the jobs done before procrastination starts.
7. Save drinks for after work
photo credit: radiobread
If you are busy, resist all urges to slip off for a lunch time drink. You will regret it the next day when you realize that you have double the amount of work as usual and anything you did do is riddled with mistake.
I hope these tips have been helpful.
I'm pretty sure that all of you must have read quite a few Make Money Online blogs but the sad reality is that most of them FAIL at helping you to make money. Several bloggers don't have a clue as to how to make even a nickel online whereas some bloggers know-it-all but insist on fluffing up their blogs.
However, there do exist some blogs which are genuinely useful and the guys behind it are genuinely great people.
This is the first part of a series which is destined to continue for times immemorial. Just kiddin', but anyway, it will extend to at least a couple more parts as there are loads of bloggers who deserve coverage.

Lucas, the blogger at Net Strife, is a great guy and has some super-quality posts over at his blog. The design is beautiful yet simple and the content tops the design.
Lucas blogs from the perspective of a dude who's experimenting with making money online and constantly tracking and reviewing his progress. Some of the posts simply blow you away due to the value that's exhibited in them.
Here are the posts you MUST read:
http://www.netstrife.com/how-i-make-a-fortune-with-wordpress-themes/
http://www.netstrife.com/value-your-time/
http://www.netstrife.com/how-to-get-clients-as-a-freelancer/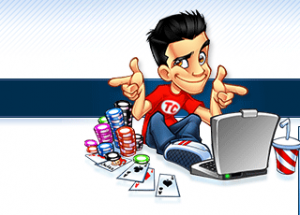 Now, I'm sure every one of us has heard about Tyler Cruz at some point or the other. This poker superstar has an insanely cool name with an insanely cool blog to go along with it

.
The design is sleek, the ads are plenty and yet, they don't clutter up the entire look. Tyler is one of the blogging superstars I actually respect as he comes across as humble and always willing to learn.
He's had a number of friendly competitions with arch-nemesis Gyutae Park and these are always fun to follow. You should definitely checkout the Affiliate Marketing Challenge that's going on.
Apart from all that, Market Leverage simply loves this guy and generously sponsors high-ticket prizes for his competitions.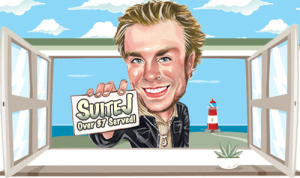 SuiteJ is a relatively new blog compared to the others but judging by the awesome posts, Jay will have his hands-full with blog expos and conferences in a year or two.
Seriously, the big-head (Jay's affectionate nickname) is amazing at churning out high quality content. He writes on a variety of topics spanning from design to website flipping.
Recently, Jay recorded his first video post and you should definitely go check it out. What's more, he's even giving away a FREE eCover design (no strings attached!)
So folks, that sums up this part of this series. Stay tuned for more

These guys are just chillin' out, watching TV after a hard day's work at the office.
Music is a rapidly changing beast and most of us have our preferences. You also notice that as you get older you find yourself often tied to the music you loved in your teenage years. New music just does not cut it!
Here are the number one albums according to Billboard for the 1960′s.
1960: Original Cast – The Sound Of Music
1961: Original Cast – Camelot
1962: Soundtrack – West Side Story
1963: Soundtrack – West Side Story
1964: Original Cast – Hello, Dolly!
1965: Soundtrack – Mary Poppins
1966: Herb Alpert & The Tijuana Brass – Whipped Cream And Other Delights
1967: Monkees – More Of The Monkees
1968: Jimi Hendrix Experience – Are You Experienced?
1969: Iron Butterfly – In-A-Gadda-Da-Vida
As you can see the 1960′s was a very interesting year for music. The Billboard chart's started in the 50′s and it took until the last half of the 1960′s for non-musical related albums to start becoming popular. The outh really started to rule and it's great to see it charted in music.
I was born in 1981, the number one album that year was Kim Carnes with Bette Davis Eyes. I be honest I have no idea what this is!!
What was the number one album the year you was born?
Urinal Surfing
Only the manliest of man would be brave enough to surf the mighty waves of piss in a urinal. This guy is either drunk, getting paid a small fortune or there's someone pointing a gun at his head off camera.
I am sure you can all relate to this post!
Some people call them brain farts, some people call them mistakes but at the time of conception they seem like absolutely brilliant ideas!! Then disaster strikes.
1. Carrying two glasses on top of a plate, in one hand
photo credit: shawnogram
A similar thought has passed through the mind and carried out by most people. Sometimes you get lucky but often, something falls, smashes and causes way more work than just carrying things up seperately!
2. Drinking beer during lunch break
photo credit: Carlos Luna
It seems like a great idea to go to the pub with a couple of friends and have a social pint over lunch….. 3 pints and a game of pool later…. you stumble back to work and spend the afternoon in dizzy waves chasing the mouse pointer around the screen!
3. Asking my girlfriend if she is OK after stepping on a sharp object!
photo credit: Ninha Morandini
Asking someone if they are OK in a moment of pain normally gives them the immediate action to take out all their angst and rage on you! You come out of the situation feeling worthless and sorry for giving a damn about the said person.
4. Running after a bus down a crowded street
That moment when you decide you can catch the bus is just not a rational moment. The minute you start to run and dodge you will lose your ground on the bus, lose footing and risk knocking a baby out of it's stroller…. trust me I know!
5. Becoming a blogger
Ok, this one could be argued to be a good idea. But since blogging entered my life I have been thinking about it for most of the day every day… if I see something on the street, I wanna blog about it, If I am nit getting enough visitors….. I can't sleep until I have hatched a new plan to get more. You get the point, blogging takes over your life. You can catch me blogging here and at FrugalZeitgeist.com.
What are the stupidest ideas you have ever had?